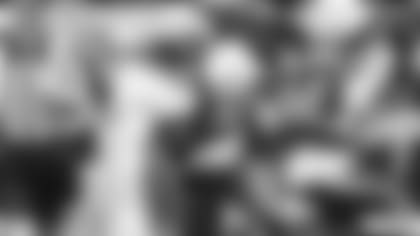 With free-agent RB Dalvin Cook watching practice from the sideline on his visit, the Jets running backs sprung free early in team periods.
Zonovan Knight continues to impress as he had two chunk gains down the left sideline and showed off the afterburners. Knight and Michael Carter worked with the first two units with rookies Israel Abanikanda and Travis Dye behind them.
"Love the running back room," HC Robert Saleh said. "Four really good ones. There's some good competition already between Izzy, Michael and Bam to try to get those two and three spots. What I've actually been loving about the run game is our offensive line. They've come on strong, they've been doing really well and trying to establish a new line of scrimmage. They're playing with a lot of fight. At this moment, very pleased with where our offensive line is. It's a long way to go, but love the way they've been playing."
As for Cook, Saleh does not have an expectation on when the Pro Bowl running back would make a decision on the next chapter of his career. Cook was released recently by the Vikings and is a free agent. With or without Cook, Saleh said the Jets are expecting Breece Hall to return to practice about two weeks after Thursday's preseason game.
"He's coming up quick," Saleh said. "He's coming along good."
Will McDonald Flashes
The team finished practice with a move-the-ball situational period. The offense started on itstheir own 37-yard line down, 14-3, with 41 seconds remaining in the second quarter.
QB Aaron Rodgers led his group down the field in seven plays that resulted in a field goal. He dialed up a deep pass to Malik Taylor along the sideline on the first play of the drive that D.J. Reed deftly batted down. Tyler Conklin saved the drive with a long third-down catch near the sideline where he slipped behind the defense. Mecole Hardman caught a quick pass over the middle for a short catch-and-run that eventually set up Greg Zeurlein's chip shot.
The offense did its job, but first-round pick Will McDonald did his, too. He applied pressure on back-to-back plays, beating Max Mitchell, who was playing left tackle, with a power move and a spin to the outside on consecutive plays.
"He looks good," Saleh said. "He has to learn power. He has all the freakish ability. He can win with speed, he can counter inside, but until he gets those tackles playing a little more heavy footed because they're afraid of your power, all of that stuff won't matter. So he's learning that aspect of it, but I think he's going to show really well in the preseason. He's shown well here."
Jetcetera
WR Allen Lazard came down the catch of the day in the red-zone period, climbing the ladder with Jordan Whitehead in great coverage on a perfect pass from Aaron Rodgers. … WR Garrett Wilson has a low-ankle sprain and the team is being cautious. … WR Corey Davis (sickness) didn't practice but is expected back soon. … Greg Zeurlein connected on all six of his field goal attempts. … The third-team defense stuffed the third-team offense on a run from the 3-yard line for what looked like a win in the competition period. The defense, however, was called for offside. It didn't matter because there was a botched QB-center exchange on the next play. The offense did pushups as a result. … C.J. Uzomah had a big gain on a tight end screen.
See the top images from Sunday's open practice at Jets Training Camp practice on a steamy day.