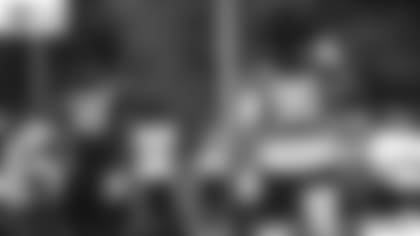 It was hard not to notice the pressure from the Jets defensive linein the team's second practice. The quarterbacks were frequently on the move, but HC Robert Saleh said its par for the course at this point of training camp.
"Any time you don't have pads the -lines going to have the advantage over the o-line," Saleh said. "So I'll save judgement for Monday."
Monday will mark the first practice with pads, a date circled on most calendars. But that doesn't negate the performance of the DL, particularly DEs Bryce Huff and Jermaine Johnson, who had multiple would-be sacks.
"He is a really, really good pass rusher," Saleh said of Huff. "He knows how to win one on ones. … It's his third year now, so he's even more comfortable, he's even stronger. He's Year 2 in the scheme so I'm excited about him and excited about the things he brings to the table, too."
Johnson, the No. 26 overall pick in the draft who had 12 sacks with Florida State in 2021, had his second multiple-sack practice in as many days.
"He has little spurts, he's athletic and, for a rookie, he has a good repertoire of tools," C Connor McGovern said. "It'll be interesting to see. With rookies you never know until you put the pads on, but from everything I've seen, it's been really good."
Comfortable Among the Chaos
With unwanted visitors knocking on the door of the pocket, second-year QB Zach Wilson looked calm. There were several instances where Wilson quickly maneuvered and was quick and decisively tucked it.
"He's playing with his internal clock, having to move in and out of the pocket, go off-schedule," Saleh said. "He looks much more comfortable doing that than a year ago, so that's a good thing."
Wilson, who ran for 4 TDs in 2021 including a franchise-long 52-yard score, was particularly sharp in the team's third-down period. He started by moving the sticks with his feet before showcasing his changeup and fastball on consecutive plays. He threw a pass down the left sideline that fell into Elijah Moore's bucket with D.J. Reed at his hip before firing a rope over the middle to UDFA WR Calvin Jackson.
"He looks like he's progressing," Saleh said. "He's comfortable back there, he's working through his progressions and getting the ball out on time. His arm talent is undeniable and when everything clicks for him, he's pretty good."
McGovern added: "The comfortability is huge and when a quarterback gets comfortable, it allows him to take his game from 201, 301, 401 and keep building from there. That's what you're going to see from him."
Jetcetera
LT George Fant and WR Braxton Berriosdid not participate in team drills again as they're "working through some stuff" according to HC Robert Saleh. … WR Corey Davis hauled in a long pass from Zach Wilson with Michael Carter II in good coverage, although it probably would have been a sack. … Joe Flacco ripped a ball over the middle to rookie WR Garrett Wilson and over the outstretched arm of LB Del'Shawn Phillips. … Fellow rookie RB Breece Hall showed off his vision and burst on a cutback for a big gain and later hauled in a pass one-handed on a screen. … WR Tarik Black shook open and hauled in a long pass from Mike White.
See the Green & White on the field during Day 2 of Jets Training Camp.