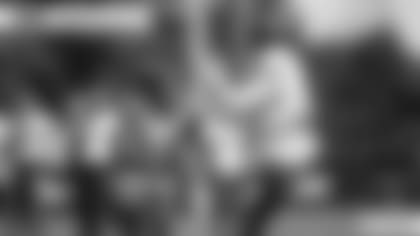 The offense and defense exchanged metaphorical punches in Monday's Jets practice as both sides enjoyed a fair share of victories.
"I thought it was good," HC Robert Saleh said. "A lot of energy today, lot of back and forth. I thought it was a really good competitive day in all three phases."
In the situational period to end practice, the defense stopped the first-team offense in three plays. The offense started on its own 47-yard line, down by 28-24, with 58 seconds remaining in the fourth quarter and no timeouts. On first down, Aaron Rodgers connected with TE Tyler Conklin on the sideline. But momentum quickly stalled as Allen Lazard couldn't corral Rodgers' pass on second down and the offense had a false start on third before Tony Adams picked off Rodgers on a deep pass over the middle of the field. 
Rodgers, however, had the last laugh in the next period. Set up with first-and-10 on the 12-yard line, still down, 28-24, Rodgers fired a pass to Lazard over the middle and he ran it in for the score.
Earlier in practice, the Jets had a period where the offense started on its own 2-yard line. Rodgers got the defense to jump for a free play, but the first team couldn't capitalize to move the chains. Wes Schweitzer, running with the first team at center, snapped the ball over Rodgers' head on third down. The future Hall of Fame signal-caller ran back, scooped up the ball and rolled to his right before delivering a rope to Lazard on the sideline that would've been a first down, but the wideout wasn't able to haul in the pass.
"Standing back there and just listening, I'd jump every play," Saleh said of Rodgers' attack at the line of scrimmage. "It's a pretty advanced cadence. I've even talked to Coach [Matt] LaFleur about it in Green Bay. A lot of guys are learning it, we're straining to learn it. It's an advanced cadence system, so he's straining both sides of the ball."
Big Ticket Trending Up
Mekhi Becton had his most complete practice of training camp Monday. Becton was impressive in 1-on-1s against the defensive line and in team periods, showing light feet and strong clamps. The 2020 first-round pick will be on a pitch count in Thursday's preseason game, his first game action since Week 1 2021.
"Mekhi has had back-to-back really good practices," Saleh said. "He's been able to finish all the way through and he's getting stronger on that knee. I think he's getting more confidence in it. The big thing for him is rather than rush to be a first teamer, let's rush and see us get through a game and have that ability to finish a game, a practice, a week. There's no denying his talent, but right now it's about building confidence, building strength, the endurance. Once all that comes, then we'll take the next step and see how he can perform with the 1s and all that."
Jetcetera
The Jets will practice in pads on Tuesday and that will be followed by a Wednesday walk-through. The team will fly to Ohio Wednesday afternoon and line up against the Browns Thursday night at the Hall of Fame Game in Canton, OH. …. Wideouts Garrett Wilson (ankle) and Corey Davis (illness) did not practice. Davis got in some conditioning work to the side and Robert Saleh indicated he could return Tuesday. … Fresh off the PUP list, Randall Cobb jumped in with the returners in a punt drill and the veteran receiver also caught a pass over the middle from Rodgers in a team period. … Cornerback Jimmy Moreland stole a reception away from Jerome Kapp and returned a Chris Streveler pass for a score. … Tim Boyle hit Xavier Gipson over the middle and the rookie was off to the races. … Carl Lawson was in the backfield on consecutive plays when Zach Wilson and the offense were backed up to the 2-yard-line. …. Rookie RB Israel Abanikanda sprung free for a long run during a team period. … T Duane Brown, who had offseason shoulder surgery, continues to get in rigorous conditioning during practice. With Brown on the PUP list, Billy Turner is lining up with the first team across from second-year T Max Mitchell.
See top photos from Monday's training camp practice at 1 Jets Drive.