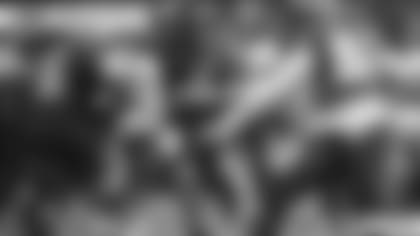 Two days following the Jets' preseason opener vs. the Browns in the Hall of Fame Game, the Green & White returned to the practice field Saturday in Florham Park. Robert Saleh led his club through a spirited non-padded workout that included a Jermaine Johnson pass rush that ended with some unintended contact with QB Aaron Rodgers' pinky toe. Rodgers, donning his red jersey with the No. 8, was replaced for a few snaps by backup QB Zach Wilson in the team period but finished the practice no worse for the wear.
"We do it all the time," HC Robert Saleh said of the practice reminders for rushers. "Stay off the quarterback. Respect the quarterback. Every player knows how important those quarterbacks are, but stay up, stay off them. It goes without saying, but you're always going to try to make it a point of emphasis."
On the injury front, WR Garrett Wilson (ankle) is expected to return Tuesday before the team travels to South Carolina for joint practices with the Panthers. While Wilson is nearing a return, veteran T Duane Brown, who had offseason shoulder surgery, remains on the PUP list and is at least a couple of weeks away from practicing.
"He's still rehabbing," Saleh said of Brown. "Would love him out there right now, but it is a plus that he's got so much experience in this league. He's one of the few in the league when you have that much experience you can play without practice, but he's going through a lot of individual on the side, and he's still getting a lot of work in. So, I'm not worried about whether or not he'll be ready to play once he gets here."
Early Returns
Rookie WR Xavier Gipson displayed his mettle Thursday against the Browns. After mishandling a punt that resulted in a Jets' drive start at their own 5-yard-line in the first quarter, Gipson rebounded with a 45-yard kickoff return before halftime that led to a Greg Zeurlein field goal.
"Credit to him. He had all kinds of space and I think he probably got a little excited, but he might still be running if he can feel that one clean," Saleh said. "Maybe he knew it and he saw it and he just got a little excited, but no doubt that we'd have the confidence to put him back there again and let him go do it. He's been doing everything right and I know he's salivating as his next stop."
Gipson had a pair of receptions in practice Saturday including a chunk gainer off of a play-action pass from QB Zach Wilson.
"I like him," Saleh said of the Stephen F. Austin product. "He's got a great mindset to him. He's kind of a veteran mindset to him in that he's composed, he's very business-like, approaches everything. He has a plan. His day-to-day, his moment-to-moment operation is like a veteran. He just knows how to take care of his body, prepare, all the different things that we ask those guys to do."
Jetcetera
Safety Jordan Whitehead wasn't fooled on some trickeration and came down with a red-zone interception. S Ashtyn Davis also read Zach Wilson's eyes on a throw over the middle, registering a PD. … On consecutive plays, QB Aaron Rodgers attempted long-distance passes to Randall Cobb and Malik Taylor but Michael Carter II and D.J. Reed respectively forced consecutive incompletions. Rodgers couldn't find an open receiver on the next play, so he scrambled and pointed at DL John Franklin-Myers on the run. Rodgers later had a TD to Jeremy Ruckert in a red-zone period but rookie edge Will McDonald had the future Hall of Fame QB in his sights. Rodgers was also credited with a TD to Allen Lazard although it appeared like Reed might was in position to make a stop before the goal line. … RB Zonovan 'Bam' Knight had a big gain along the sideline after taking a pitch from Rodgers and finding a hole on the right side of the line behind Alijah Vera-Tucker and Max Mitchell. … Zach Wilson followed up a solid effort against the Browns with a sharp practice session. … DLIfeadi Odenigbo and Destin Alexandre had would-be sacks of Tim Boyle.
See top photos of the Green & White back on the field at 1 Jets Drive during an open practice on Saturday.