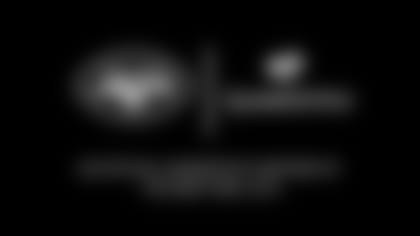 The New York Jets and QuidelOrtho Corporation ("QuidelOrtho") hosted a blood drive with the American Red Cross on Monday, December 12. Staff members of the Jets and QuidelOrtho joined local community members to donate blood this holiday season. The blood drive collected 27 pints of blood, which can help save approximately 80 lives.
Jets Tight End, Tyler Conklin, and Punter, Braden Mann, supported the initiative and visited with those who donated. All local donors were provided two tickets and a parking pass to the Jets' Thursday Night Football (TNF) game against the Jacksonville Jaguars on December 22, courtesy of QuidelOrtho. Additionally, QuidelOrtho provided a QuickVue® At-Home OTC COVID-19 Test to each donor. QuidelOrtho is the presenting sponsor of the TNF matchup.
The Jets and QuidelOrtho also supported the American Red Cross Millburn-Short Hills blood drive hosted by the Millburn High School Red Cross Club, which took place on December 15 at Millburn High School. QuidelOrtho encouraged younger donors to give back by donating 70+ Jets tickets to the program. Many of the first-time donors received a pair of tickets and a parking pass to last week's Jets game on December 18 versus the Detroit Lions. Since April 2020, this drive has collected over 2,742 units of blood.
"QuidelOrtho is proud to partner with the New York Jets, the Red Cross of New Jersey and all the caring volunteers who are stepping up to keep the blood supply safe and sufficient for chronic disease treatments and emergency transfusions. As a global leader in transfusion medicine and diagnostic testing, QuidelOrtho's sponsorship of this Jets' blood drive is even more gratifying because each blood donation can save three or more lives and each QuickVue At-Home OTC COVID-19 Test we provide to donors can help protect the heroes who gave from the heart today to save others. It's truly a win-win for health in the Jets' home community," Douglas Bryant, President and Chief Executive Officer of QuidelOrtho said.
The need for blood is constant, especially during the holiday weeks when blood and platelet donations tend to drop more than 20 percent. This is why the Jets, the American Red Cross and QuidelOrtho are encouraging local community members to shake up their holiday tradition and donate blood.
Community collaboration is at the core of the Jets partnership with QuidelOrtho, an official diagnostics partner of the New York Jets. Quidel Corporation and Ortho Clinical Diagnostics combined earlier this year to form QuidelOrtho, with an 80-year shared history of innovation. QuidelOrtho has an international footprint with one of their main facilities in the Jets' backyard - Raritan, NJ.
About QuidelOrtho Corporation
QuidelOrtho Corporation (Nasdaq: QDEL) unites the power of Quidel Corporation and Ortho Clinical Diagnostics behind a shared mission of developing and manufacturing innovative technologies that raise the performance of diagnostic testing and create better patient outcomes across the entire healthcare continuum.
Ranked among the world's largest in vitro diagnostics (IVD) providers with more than 120 years of collective experience, we combine industry-leading expertise in immunoassay and molecular testing with a global footprint in clinical labs and transfusion medicine.
Our company's comprehensive product portfolio delivers accuracy, speed, automation and access, providing critical information when and where it is needed most. Inspired by a spirit of service, QuidelOrtho is committed to enhancing the well-being of people worldwide and happy in the knowledge we are making a difference. For more information, please visit www.quidelortho.com.
See images from the holiday blood drive held at the Atlantic Health Jets Training Center where blood donors visited TE Tyler Conklin and P Braden Mann. The blood drive helped save approximately 80 lives.