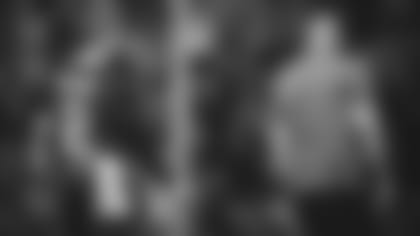 It was a busy day at 1 Jets Drive. A day after a humbling loss to the Patriots, rookie QB Zach Wilson had an MRI on his right knee and it revealed a PCL sprain that is expected to sideline him for 2-to-4 weeks. Backup Mike White, who played most of the second quarter and finished Sunday's game, will now get reps with the first-team offense after running the scout team since training camp. And then late Monday, NFL Network's Mike Garofolo reported the Jets had reached agreement on a trade that would bring back Joe Flacco from Philadelphia in exchange for a conditional draft pick.
Wilson sustained an injury to the PCL (posterior cruciate ligament) in his right knee when a hit by the Patriots Matthew Judon caused him to jam his foot into the turf. The injury came on a play that resulted in a 46-yard pass interference penalty against New England, setting up White's first snap from under center in the NFL, his first pass attempt, and ultimately his first TD pass when he found Corey Davis in the back of the end zone.
Now, the focus is split between the impact on Wilson's development and the plan with White, Josh Johnson, a member of the Jets' practice squad, and potentially Flacco (any trade wouldn't be final until a physical is passed).
"I don't think it's a setback," Saleh said, referring to Wilson's injury. "It's always good to be able to step away, watch a quarterback through another lens. I thought Mike did well finishing a scoring drive that Zach was a big piece of. Now he gets to rehab and catch his breath. All the other moving pieces are all dependent. We're still able to develop as an offense and Zach will still be there learning it and absorbing it. I don't think it's a setback at all.
"If you want to look for a silver lining, when you can watch the same offense that you are running for the first six weeks, run through the lens of another quarterback and just to see how he operates within the same system, I think there's a lot to be had. You can learn a lot off what other people do. It's different. He can sit and watch Tom Brady all he wants, but he's not in that system, he's not sure what's being told. But to be able to watch another quarterback go through the same system I think can help him generate more of an identity and how he operates within it."
As Saleh, befitting his positive approach, saw a silver lining on a gray day, offensive coordinator Mike LaFleur explained both sides of the coin with Wilson out of action for at minimum the Jets' contests with the Bengals Sunday at MetLife Stadium and the following Thursday against the Colts in Indianapolis.
"There's nothing like playing," LaFleur said. "That's where you gain the most experience. There's nothing like it. Where you do learn the most is when the bullets are live. From the positive side to spin it, the next however many weeks he's out he can sit back and regroup. Look at the last six games, where he's done well and where he needs to progress. There's something to be said for being able to sit back not to have the weight of the world on your shoulders. For the next few weeks he gets to learn and grow and watch someone else and battle to get back as soon as possible."
Injuries are part of the game, they are expected and as running back Ty Johnson said on Monday: "It's another week and the NFL doesn't wait for anybody. No one cares. You have to put your head down, blue collar and get ready for this game upcoming [hosting visiting Cincinnati at MetLife Stadium on Sunday]."
In other injury news, the Jets are thin at linebacker and will have players in for workouts Tuesday. C.J. Mosley missed the Patriots game with a hamstring injury, Jarrad Davis (ankle) hasn't played yet plus rookie LB Jamien Sherwood is out for the season after rupturing an Achilles tendon, Quincy Williams is in the concussion protocol and Blake Cashman has to get an MRI on his groin.
Confidence in Mike White
Mike White, a fifth-round draft pick (No. 171 overall) by Dallas in 2018, finished Sunday's game 20 of 32 for 202 yards, with 1 TD pass and 2 INTs. For a guy who has played the role of the opposing quarterback at practice, seldom if ever getting reps with the first team, the coaches and his teammates are confident in his ability.
"He's a very calm man," Saleh said. "He's a great communicator, he's got great command of the huddle, he's got great command of the offense He understands progression reads and how to go through a progression, get the ball where it needs to go, understands how to slide in the pocket to throw instead of slide in the pocket to run. He doesn't panic. If you look at his series from yesterday, he did a good job. He went through his progressions, found the check downs, created explosive plays, took what the defense gave but also created an explosive to Corey Davis, and he was doing a really nice job moving the offense.
"As I said, this is about just running this offense, getting the ball where it needs to go, run the football, and move the chains when you get an opportunity. Throughout OTAs and training camp, we felt like Mike did a really nice job doing that."
In addition to White, the Jets on Monday elevated the much-traveled veteran Josh Johnson from the practice squad to the active roster. On Sunday, White said that Johnson was a big help on the sideline as the Pembroke Pines, FL, native got his bearings.
Like Saleh, LaFleur expressed confidence as White could get his first NFL start, against the Bengals.
"I expect him to be the same -- our message to him is go about the process," LaFleur said. "The only difference is that he's been named the starter and will take first team reps, which he gets none of during the week, especially when you have a rookie quarterback. To get in huddle and go through cadence needs to take every rep. We have all the confidence in the world in him. He did a really good job of operating the offense in the second quarter and third quarters -- the fourth just got away from us."
Teammates Rally Around White
Mike White could be the Next Man Up for the Jets at quarterback, and on Monday several of his teammates said that they respect his talent, commitment and intelligence.
CB Bryce Hall: "It's hard when our quarterback, the guy we have to ride with, goes down. It's tough, but I think credit to Mike. I know he's more than capable of getting the job done. He's a good friend of mine, and in this league it's always the next man up mentality. He can make any throw. He's a very talented as a passer, very smart and a competitor, too. Those are some of things we see in practice that make him special as a player and why we have confidence in him."
DL Folorunso Fatukasi: "Mike is a person that is into detail, he's a team guy, a team player. A professional at what he does. Mike is always prepared. Zach is a fighter, he's a fighter who takes his job very seriously. He has exhibited some extreme professionalism and he understands the show doesn't stop just because one person is hurt."
RB Ty Johnson: "We believe 100% in Mike White, the team does. We got a guy who came in and played butt off [at New England] in simple terms throughout the game. We feel for Zach, feel for anybody who has to leave a game like that. Zach is one of those guys who put everything on the line to win the game. I feel for him. Things happen, and I'm 100% with Mike White, and I know the team is, too."