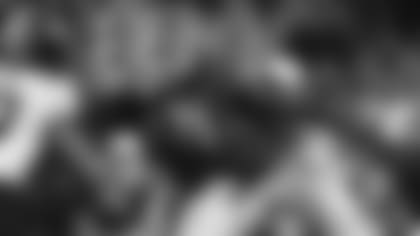 The Athletic — Dane Brugler (Posted 12/4)
New York Jets: Round 1, No. 9, LT Andrew Thomas, Georgia
"Upgrading the offensive line is priority No. 1 for the Jets this offseason, and it will take both free agency and the draft to do so. Thomas has some bad habits and needs technique work, but no matter what the movement requires, he finds a way to get the job done, projecting as an NFL left tackle."
Analysis
The Jets are the third team in the top-10 to select a tackle in this first mock draft (Alabama's Jedrick Wills to Redskins at No. 3 and Iowa's Tristan Wirfs to the Cardinals at No. 7). Brugler said if the Jets are looking to select a tackle in the top-half first round, they'll be holding their breath.
"In this scenario, one does [fall to the Jets] — Andrew Thomas the left tackle out of Georgia, a player who has a ton of ability and a lot raw talent," Brugler said. "I really like the way he stays balanced through contact. He uses his hands very well, the length that he has. He rolls his hips into contact.
"He needs to stay off the ground and do a better job with his technique. That's really why he's the third tackle off the board in this scenario and not the first or second, but he's still a high-upside player, a guy that projects as an NFL starter. If you're looking for a tackle in this draft, I think there are plenty of options and Andrew Thomas could be one of them."
The Jets offensive line has been a revolving door this season. At least two players have played at each position in 2019. Two-fifths of their opening-day starters have been placed on injured reserve (C Ryan Kalil and RG Brian Winters) and the Jets released starting LG Kelechi Osemele in October. General manager Joe Douglas, a former offensive lineman, will look to fortify the group through both free agency and the draft. Starting LT Kelvin Beachum and LG Alex Lewis have expiring contracts in addition to RT Brandon Shell (9 starts in 2019), RG Tom Compton (5 starts) and OL Brent Qvale.
The Jets could add pieces in free agency and re-sign players, but they'll look to add youth. Rookie RT Chuma Edoga is the only OL under the age of 25. Edoga was the first lineman drafted by the Jets since Shell in 2016. He was also the first to be selected in Rounds 1-3 since Winters in 2013. The last time the Jets selected an O-lineman in the first round was D'Brickashaw Ferguson in 2004.
Thomas, a junior, hasn't declared for the NFL Draft yet. He started all 13 games for the Bulldogs this season and last season and started all 15 games at right tackle in 2017.
"With Thomas, it doesn't always look pretty," Brugler said. "There are times when he's falling off balance, but he finds a way to get the job done no matter what the action requires. If he can improve his technique even more, he won't have to rely on having the raw traits and we're going to be able to see Andrew Thomas develop into a really good player."