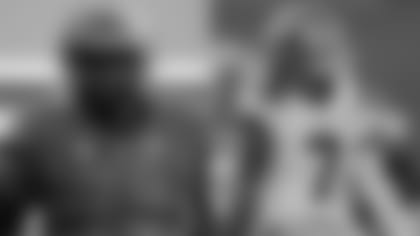 The Jets have nine picks in the 2022 NFL Draft, including two in the Top 10 and four selections in the Top 38. Below is a compilation of mock drafts. The views expressed are not representative of any Jets personnel.
ESPN - Todd McShay
No. 4: OL Ikem Ekwonu (N.C. State)
Ekwonu's size makes him tough to get around, he plays with the power to bury defenders, and he's a mauler in the run game. In fact, some people around the NFL even like him more than Evan Neal. Ekwonu would help New York protect Zach Wilson in the passing game and spring Michael Carter in the running game. The Jets allowed 53 sacks in 2021 (fourth most), but New York's offensive line issues aren't as massive as they seem. I think the team is one impact player away there. Morgan Moses played well last season, but he's a free agent due for a pay bump. Mekhi Becton, the Jets' 2020 first-rounder, has struggled to stay healthy but still has a ton of upside.
Given some unknowns here, Ekwonu's versatility matches what the Jets need. Coach Robert Saleh would have options with Ekwonu in the fold, including but not limited to bumping the rookie inside or sliding Becton to the right side. Alternatively, the Jets could consider Kayvon Thibodeaux to address the edge rush after generating just 33 sacks last year (tied for 28th).
No. 10 (via SEA): CB Derek Stingley (LSU)
The Jets went offense with their first four picks in 2021, and we just handed them an offensive tackle (Ikem Ekwonu) at No. 4. So yeah, this is defense all the way, especially with safety Marcus Maye facing free agency. The Jets could certainly get by with Bryce Hall and Brandin Echols at corner, but Stingley could be the steal of the draft if things go this way. The big question is whether the LSU product can return to form and produce as he did in his 2019 freshman year, when he had six interceptions. A left foot injury held him out of all but three games in 2021, but if he realizes his potential, Stingley would certainly improve a defense that gave up 8.0 yards per pass attempt and hauled in just seven interceptions in 2021.
Sports Illustrated - Kevin Hanson
No. 4: S Kyle Hamilton (Notre Dame)
Given Joe Douglas's preference to build through the trenches, it's very possible Ikem Ekwonu will make it three consecutive Jets' drafts with a first-round offensive lineman. For now, though, let's operate under the premise the Jets will start George Fant at left tackle, shift Mekhi Becton to right tackle and "throw a lot of money" at a free-agent guard, as predicted last month by SNY's Ralph Vacchiano.
A rangy playmaker with elite size (6' 4" and 219 pounds), Hamilton has the versatility to be used as a defensive chess piece and the coverage ability to erase top pass-catching tight ends. Hamilton had eight interceptions over three seasons in South Bend. Meanwhile, only the Raiders (six) picked off fewer passes than the Jets (seven) last season.
No. 10 (via SEA) - EDGE Jermaine Johnson (Florida State)
Later in this mock, you'll see four Georgia defenders, but is it possible that a former Bulldog will be selected before any of them? In his lone season after transferring from Georgia, Johnson led the ACC in sacks (11.5) and tackles for loss (17.5) and was named the conference's 2021 Defensive Player of the Year. After his stellar week at the Senior Bowl in Mobile, Johnson may have put himself in the top-10 mix come April.
NFL Network - Cynthia Frelund
No. 4: CB Ahmad "Sauce" Gardner (Cincinnati)
My colleague Daniel Jeremiah likens Gardner to Antonio Cromartie, who became a four-time Pro Bowler after coming out of FSU, and the comp holds well. Change-of-direction speeds for the two corners were in the 90th percentile, while DB body control (factors in efficient change of direction when moving toward the ball) ranked in the top 89th. Gardner's pursuit speed (speed to tackle) was also a strength (top 85th percentile).
No. 10 (via SEA): OL Charles Cross (Mississippi State)
I realize that Mekhi Becton, the 2020 first-rounder who missed all but one game in 2021 with a knee injury, should be healthy and return to the lineup to try to take the left tackle spot back from George Fant. I also realize that Cross played on the left side at Mississippi State, and that it's not always easy to transition to the right. However, Becton and Fant both have some experience playing on the right, and this O-line needs help. My numbers show that Cross is evolving and has the opportunity to develop into a dominant pass protector. PFF's notes agree, showing that he made a major improvement in pressures allowed from 2020 (44 on 574 pass-protection snaps) to 2021 (16 on 719 snaps).
Pro Football Focus - Mike Renner
No. 4: OL Ikem Ekwonu (N.C. State)
Mekhi Becton and Ickey Ekwonu would present an incredibly imposing tackle duo. Ekwonu led all Power Five tackles in big-time blocks last season.
No. 10 (via SEA): WR Drake Lonson (USC)
London is quite easily the one receiver from this draft class who I'd want to pair with a young quarterback. Even when he's not open, London is open. He hauled in an NCAA-high 19 contested catches in only eight games last season.