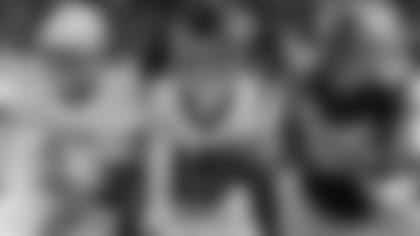 The Jets have nine picks in the 2022 NFL Draft, including two in the Top 10 and four selections in the Top 38. Below is a compilation of mock drafts. The views expressed are not representative of any Jets personnel.
ESPN - Mel Kiper
No. 4: EDGE Kayvon Thibodeaux (Oregon)
I'm not buying a Thibodeaux drop. He might be the most talented prospect in this class. The Jets have to add some juice to their pass rush, and this is the spot to do it. It's also not out of the question that they take a receiver here -- Drake London or Garrett Wilson? -- because their top guy might be off the board by the time they pick at No. 10.
No. 10 (via SEA): WR Drake London (USC)
If the Jets can pull this off -- a top-tier receiver here and a high-upside edge rusher at No. 4 -- shouldn't they be considered one of the most improved teams of the offseason? I like what they've done, and they haven't had to break the bank. Of course, that doesn't mean they're going to be AFC East contenders just yet. London is a 6-foot-4 target who will dominate in the red zone and pull down 50-50 balls to boost Zach Wilson's completion percentage.
No. 31 (projected trade with CIN): OL Tyler Linderbaum (Iowa)
Could Linderbaum be the Jets' new Nick Mangold? They took Mangold at pick No. 29 in 2006 and have been trying to fill that void at center since he left the team after the 2016 season. Some NFL teams are put off by Linderbaum's short arms, but just watch the tape. He has the physical traits to be an All-Pro and is exceptional as both a run and pass blocker. He's exactly what the Jets need, and this is tremendous value.
No. 38: RB Breece Hall (Iowa State)
Day 2 is when teams should take running backs, and the Jets would be getting the clear top back in this class. Hall can do it all, from forcing missed tackles to catching passes. If the Jets are serious about helping Zach Wilson, they should take Hall. This scenario gives them Hall, Kayvon Thibodeaux, Drake London and Tyler Linderbaum with their first four picks, which would have them well on the way to an "A" grade.
NFL Network - Peter Schrager
No. 4: CB Sauce Gardner (Cincinnati)
Gardner is a 6-3, 190-pound corner who never gave up a touchdown pass in his collegiate career at Cincinnati. He walks the walk, talks the talk and interviewed incredibly well at the combine. There's very little negativity surrounding Gardner's game at all, and in a passing league, CBs have become all the more valued. Robert Saleh is a defensive coach, and Gardner might just be the one can't-miss corner in this class.
No. 10 (via SEA): WR Jameson Williams (Alabama)
Your first shocker of the 2022 NFL Draft. The Jets go with the electric Williams, who likely won't be able to take the field until at least midway through his rookie season. Before the ACL injury, Williams was the top WR in this draft class, and when it's all said and done, I think he still very well could be. The Jets are in this for the long haul, not just 2022. The expectation is that Williams will return to full health and end up being a true WR1. 
CBS Sports - Josh Edwards
No. 4: EDGE Travon Walker (Georgia)
Edge rusher is a position the Jets will almost certainly address in the top 10. The expectation is that at least two edge rushers will be off the board with one of those being Hutchinson. New York's decision is likely to come down to Kayvon Thibodeaux, Jermaine Johnson II and Walker. In this scenario, they take Walker to pair with Carl Lawson.
No. 10 (via SEA): WR Drake London (USC)
Thinking back to Zach Wilson's collegiate career, he was known to throw passes up to his receivers allowing them to make a play. London is a player who uses his body well to create separation and high point the football. It is a natural fit despite New York tipping its hand in interest of Tyreek Hill.
No. 35: S Lewis Cine (Georgia)
No. 38 (via CAR): RB Breece Hall (Iowa State)
No. 69: LB Brian Asamoah (Oklahoma)
No. 111: DT Neil Farrell (LSU)
No. 117: S JoJo Domann (Nebraska)
No. 146: G Lecitus Smith (Virginia Tech)
No. 163: S Verone McKinley III (Oregon)
NFL Network - Lance Zierlein
No. 4: CB Ahmad "Sauce Gardner (Cincinnati)
Taking Gardner here gives the Jets the top CB in the class while allowing them to search for a talented pass rusher at No. 10 overall.
No. 10: EDGE Jermaine Johnson (Florida State)
Johnson is a plus run defender who flashed exciting upside as a pass-rusher at the Senior Bowl.