Muhammad Wilkerson and Jaiquawn Jarrett spent the afternoon of their day off Tuesday at Springfield Gardens High School in Queens, NY, to present $150,000 from the New York Jets and the New York City Department of Education to the Public Schools Athletic League in support of the *Heads Up! *program.
The donation went to reconditioning every helmet in the PSAL, continuing the first-ever PSAL girls Varsity Flag Football League, and supporting the CHAMPS middle school flag football program.
"It's always great to give back to the community. I'm always humbled and proud to be a part of it," Wilkerson said. "Donating this check so these kids can have something to do after school and participating in athletics — it's tremendous."
After the check presentation, Wilkerson and Jarrett motivated the kids through their practice and taught them some new techniques.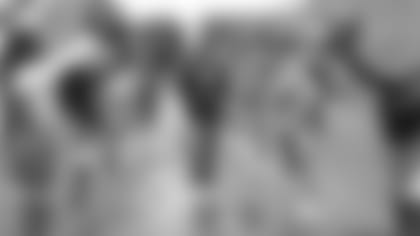 The event hit home for both men, but especially for Jarrett, who went to high school at Fort Hamilton in Brooklyn, a team in the PSAL.
"I want to show them that I was once in their seats," he said. "They have the same opportunity as me to be whatever they want to be in life."
Wilkerson said it was special for him to help make sure all the students had efficient protective gear, especially helmets in good condition.
"These guys and girls look up to us as role models and want to be successful in life," he said. "For the boys, they grow up and might want be a defensive player like myself or whatever position it is that they play. They want to follow in our footsteps and live that dream that I'm living. It's pretty much to give them the tools, information and motivation to get here."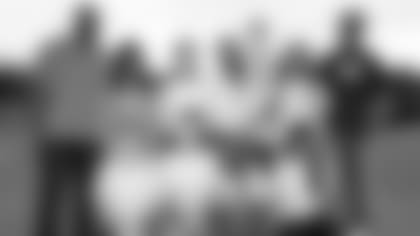 Eric Goldstein, CEO of the office of school sports services at the Department of Education, said both boys and girls at the practice were grateful for their time with the Jets.
"We're really celebrating the contribution the New York Jets make to the New York City Department of Education and the PSAL," he said. "Without the help of the Jets, year on year on year, we wouldn't have 54 football teams, we wouldn't have 50 girls flag football teams, and we wouldn't have several thousand students engaged in the crucial activity of high school football sports."
When the practice broke down, the kids swarmed Wilkerson and Jarrett, making requests for Sunday's game against the San Diego Chargers.
The resonating thought for the day was Goldstein's message to the kids to use football as a tool to receive a quality education. Wilkerson and Jarrett took that route and ended up on the same team at Temple University.
"That's an important mission for us," Goldstein said, "and the fact that the Jets share in that and partner with us and help us — our gratitude knows no bounds."