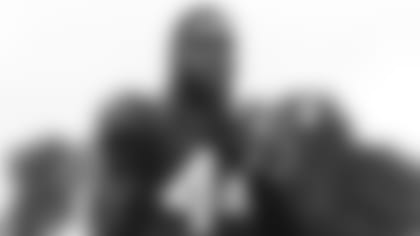 Jamien Sherwood -- No. 44 -- was the only Jets player who wore his practice jersey to the lectern during Monday's press conference at the Atlantic Health Training Center. The loose white shirt with green numbers made it difficult, if not impossible to see that the guy who played safety at Auburn and came to the Jets as a linebacker said that he had gained 15 pounds since last year.
"In college, day after day, you lift and eat whatever you want, putting on weight is easy," said Sherwood, who played at 220 pounds in his final season for the Tigers at safety. "Ahead of the draft, I had to take some off. Then in camp I started losing weight in practice. Then, with that rehab process it was easy. I wasn't running around, not eating right, lifting weights and a lot of carbs -- you know pasta, chips and bread."
Those days, however, are over for now. Sherwood, who was anointed as a linebacker when the Jets selected him in the fifth round (No. 146 overall), sustained a ruptured Achilles tendon in the Week 7 game against New England last October, after making four starts and drawing praise from the coaching staff. He's back and appears to be slotted in behind C.J. Mosley at middle linebacker. Sherwood, however, is fast enough, young enough and aggressive enough to play any of the three linebacker positions and he said he made the most of a bad situation that ended his rookie season.
"I feel like everything happens for a reason, negative or positive," he said. "When it [the injury] happened, I realized I was undersized for the position. It was my opportunity to gain weight. At the same time, I put some on I got to learn sitting by C.J.. I didn't get the reps physically, I got them mentally from C.J. I was able to come back to camp and I was ready. I didn't have to ask questions, just play ball.
"This year I feel like it is no different than last year being a rookie. It was about learning the linebacker position, having this past year to learn to sit behind C.J., Quincy [Williams], Del'Shawn [Phillips] and now Kwon [Alexander] and putting all the pieces together."
Alexander, the veteran the Jets signed last week, has made an immediate, positive impression on the 6-2, 22-year-old Sherwood.
"He's brought a lot of energy," Sherwood said. "I've never met guys like him. When the meeting room is quiet early on, he comes in and says 'Looks like we got some energy vampires in here.' He makes sure to wake us up. I've already picked up a lot of new stuff from him, learning linebacker moves that I didn't learn last year because of injury. He helps us out. I appreciate him a lot."
Saleh, from his days at the defensive coordinator with the San Francisco 49ers has a unique approach and keen eye for young safeties who he envisions as formidable, versatile linebackers in a fluid defensive scheme. That list includes current Jets Marcell Harris and Kai Nacua (who played for Saleh with the Niners), and Sherwood and Hamsah Nasirildeen (who were both drafted in 2020) .
O.K., so while we're in the realm of "horror show" analogies after Alexander's quip about "energy vampires" [a nod to the TV show "What We Do in the Shadows"], Sherwood addressed the nickname given to him by head coach Robert Saleh -- The Florham Park Strangler.
"We have a nickname for Sherwood: He's the Florham Park Strangler," Saleh told a reporter. "He's got these long arms, and when he gets his paws on you it's over."
Asked about the moniker, Sherwood said that it grew out of his play on special teams last season, when he made 15 tackles (8) solo: "Yeah, it started on specials. They say I got these long arms [measured at about 82 inches, in the 98th percentile of 2021 draftees], the goal is to compete, so I put my arms on them and try to win. I think it's [the nickname] pretty cool. I'd get my arms up around a guy's neck and that would be it. The 'Strangler,' I mean it's like people could look at you crazy, but I haven't been called that outside the facility."
See the Green & White on the field in full pads during week three at training camp.