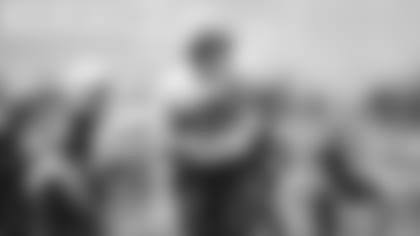 It's no secret that Long Island native TE Jeremy Ruckert has been a Jets fan his entire life.
"The fan is still in me," the Lindenhurst native said during the first week of training camp at the Atlantic Health Jets Training Center.
Of his devotion to the Green & White, there is little doubt. But after a rookie season punctuated by a nagging foot injury and subsequent limited contributions on the field, Ruckert said that he's primed and ready to show he belongs.
 "I'm definitely more comfortable this year," the 6-5, 250-pound Ohio State product said. "I've been through it the whole year, the game is slowing down and I have a lot of room to improve. Being here for a year, things are making a lot more sense. I'm trying to use that going into the season and keep my confidence."
As a third-round draft pick (No. 101 overall) by his hometown team, a foot injury (plantar fasciitis) limited Ruckert to 9 games (48 snaps on offense) and 2 targets. His only reception came in the Week 18 game at Miami, but in that game he also drew praise from head coach Robert Saleh and tight ends coach Rod Middleton for laying on a couple of crushing blocks. The late, positive flourish offered encouragement ahead of the 2023 NFL season.
"Ruckert's had a really good offseason," Saleh said last Sunday. "He was really strong in OTAs. I don't know if any of you [reporters] have had plantar fasciitis, but it's probably one of the more annoying injuries in the world, because you can go and sometimes the doctor will say it's better if you just tear it, and so it just lingers and it's just an annoyance. But to his credit, he fought all the way through and now he looks really, really good."
Ruckert, who will turn 23 years old on Aug. 11, is part of a crowded and talented tight ends room. On paper right now, Ruckert slots in as the No. 3 TE behind C.J. Uzomah and Tyler Conklin, both of whom signed last year in free agency. The Jets also drafted towering Zack Kuntz (6-7) in the seventh round in addition to bringing back Kenny Yeboah, who suited up in a reserve/special teams role in 19 games in 2021-22.
"Being healthy this year has been a great load off, mentally and physically," Ruckert said. "At the end of last year I was playing with confidence and started to feel like myself again and I just used that to springboard me into a good offseason. Now they can put me in any spot, run or pass game, whatever it is — I'm ready to go in and play physical."
He is in a position that demands the physicality to excel in the run game and the agility to burst off the line of scrimmage and offer the quarterback -- in this case Aaron Rodgers -- an inviting target. Saleh likes Ruckert, especially his "nasty streak."
"He looks awesome, he's hungry," Saleh said during OTAs. "I'm excited about him and the direction he's going in for sure. He's really attacked the offseason. He looks fluid. He's athletic. I think he's very physical, he has a physical mindset to him."
Ruckert said that he's ready to fulfill the expectations of his coaches. Even more, he wants to fulfill his own expectations.
"I take pride in being able to do whatever they want me to do," Ruckert said. "I want to be a complete tight end, put my nose in the ground and get after guys. My goal as a player is to be put anywhere and be able to thrive. I need to fine tune all those aspects and be the most complete tight end I can be."
See Quinnen Williams, Aaron Rodgers, Carl Lawson and the Jets during week two of Jets Training Camp.