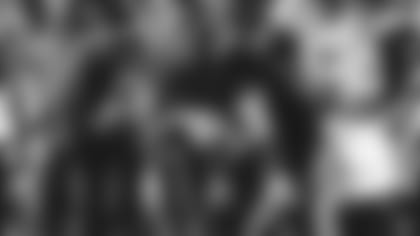 In the mind of Robert Saleh, Sunday's regular-season opener, a 19-14 loss at Carolina, was only the first signpost in a long-term project.
Asked if the team's confidence has been shaken, Saleh said: "No, I don't think so. We knew this was going to go to the fourth quarter. I think we all did, knew it was going to be a one possession game. We're going to get these opportunities all season. This is a team that's got grit. It's a team that's got fight. It's a team that's got resolve. It's a team that's going to show up in the fourth quarter in one-score games, and whether or not we can close the door and make these plays to win these football games is going to be the difference between whether we win or lose. Unfortunately, obviously credit to them with the way they played, but we're going to be staring at this again. We are going to be staring at these opportunities. What can we learn from today's tape, and how can we get better so that when we're faced with these one-score opportunities, we can make the plays necessary to win the game."
In many ways, the Week 1 game in the 2021 NFL season was really a tale of two divergent 30 minute halves. The Panthers, led by former Jets QB Sam Darnold, fashioned a 16-0 lead as the Carolina defense teed off on Jets rookie QB Zach Wilson. In the game, Wilson was sacked five times and endured 10 QB hits in addition to being flushed out of the pocket several times.
In the first half, Wilson completed only 6-of-16 passes for 84 yards. But even that yardage figure is misleading because the Jets gained 35 of them on a crucial third-down connection between Wilson and No. 1 wide receiver Corey Davis. But three plays later Wilson threw the first interception of his NFL career, a pass which he admitted was a "bad throw."
"There's a lot of things that are involved in protection," Saleh said. "I'm never going to just blame the offensive line, especially when you look at the first half when a lot of those breakdowns happened, you've got – there's route running, there's quarterback getting rid of the football. There is protection, obviously, and then there's credit to those guys. They get paid too and they won some one-on-ones and did some things schematically that were pretty darn good. But at the end of the day, you're right. Protection's got to hold up, but it's a collective effort, not just solely on the offensive line.
"You know what, the entire group in general on offense, that first half, there were so many missed opportunities. A lot of dropped balls, had a couple of explosives, potential explosives, that resulted in drops. Even in the run game, just not getting the push and the edges that we've been accustomed to getting out of training camp and preseason games. But they settled down and came back in the second half. I thought they did a really nice job, showed resolve. He made plays in the second half off schedule. He made plays in the pocket. Had a chance there at the end we just couldn't get the ball back."
With the defense playing inspired ball in the third quarter, before the end of the quarter Wilson scrambled right and fired a 22-yard pass to Davis, who was wide open. On the play, LT Mekhi Becton sustained what appeared to be a knee injury. He left the game and did not return.
"It takes a lot of sit in the pocket take all that pressure," LB C.J. Mosley said. "He's sitting in there and making some big-time throws. I have a lot of respect for him. There's going to be some growing pains, but for him to stick in the pocket and make plays in his first big game ... kudos to him.
After the TD, Wilson skunked the Panthers' defense when he faked a handoff to the left and waltzed into the end zone for the two point conversion, making it a one score game at 16-8.
"Same thing he's shown on his college tape," Saleh said. "The kid's been hit before. He took some shots today obviously, but he got back up. He showed resolve and he's fearless. He really is. He's only going to get better from this. His numbers could have been—again, collective, right? I mean, there's so many missed opportunities. Even on his end with regards to just letting it rip and getting the ball out. Even on his interception, just didn't put the zip that he needed to put on it. Worst case scenario, the corner was in great shape he probably would've batted it down anyway. But, toss up a lollipop."
Trailing by 11 late in the game, Wilson led a 93-yard scoring drive that ended with an 8-yard TD pass to Davis (5 catches for 97 yards and the 2 TDs]. This time, the 2-point conversion failed, though a defensive stop would have given Wilson and the Jets a chance to snatch a victory. It was not to be ... on this particular Sunday in September.