Nobody should have been surprised. After general manager Mike Maccagnan set a Jets franchise record with five draft-weekend trades last April, he declared a few weeks back that the possibilities were endless.
"The thing that excites me most about the draft is there are so many different things that could potentially happen," he told reporters at the NFL Combine. "We have no qualms about potentially moving up, we'd have no qualms about sitting where we are and taking a player. We have no issue potentially moving back and, if not at the top, at any pick of the draft."
He never talked about the *when *those possibilities could happen. After a flurry of moves in free agency this week, Maccagnan addressed the Draft on an otherwise quiet Saturday morning. The Jets moved up three spots in the first round, acquiring the No. 3 overall selection from the Colts in exchange for the Jets' No. 6 overall selection, two second-rounders this April (No. 37 and No. 49) and the club's second-round selection in 2019.
While Maccagnan has experienced success a pair of times with the No. 6 pick (DL Leonard Williams, 2015 and S Jamal Adams, 2017), he weighed his options and decided it was time to deal.
There are three recent trades that should be considered when taking an early look at the Jets-Colts swap.
In 2016, the Rams moved up 14 spots to get to No. 1 overall and ultimately select California QB Jared Goff. In order to get that top pick along with fourth- and sixth-round selections, the Rams sent their first-round selection, two second-round picks and a third-rounder in 2016 along with a first-round pick and a third-rounder in 2017 to Tennessee.
The Eagles followed suit, getting in position to draft North Dakota State's Carson Wentz at No. 2 overall. In order to move up six spots in Round 1 and also get a conditional fifth-round pick, the Eagles sent the Browns their No. 8 overall pick, third- and fourth-round selections in 2016, a first-rounder in 2017 and a second-round pick in 2018.
And then last April, the Bears ensured their selection of North Carolina's Mitchell Trubisky by going up one spot to No. 2 overall. Chicago sent the No. 3 pick to San Francisco along with third-and fourth-rounders and a third-round pick in 2018.
While trade charts will suggest the price was a steep one, the Jets have assured themselves of getting an elite prospect.
And that prospect could be a quarterback. After re-signing Josh McCown and agreeing to terms with Teddy Bridgewater, the Jets could stay at No. 3 and be in position to grab a franchise game-changer. Many pundits believe that Sam Darnold (USC), Josh Rosen (UCLA), Baker Mayfield (Oklahoma) and Josh Allen (Wyoming) have separated themselves from a deep group. Even if quarterbacks go 1-2, two of the four will be on the board if the Jets stay at No. 3.
Other talented prospects who will get early consideration from teams are expected to include RB Saquon Barkley (Penn State), G Quenton Nelson (Notre Dame), Edge Bradley Chubb (NC State) and DBs Minkah Fitzpatrick (Alabama) and Denzel Ward (Ohio State).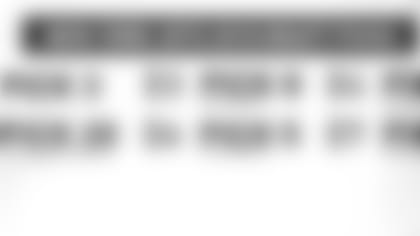 It should not go unnoticed that the Jets own six picks in this year's Draft and they still have their first-round pick in 2019. The Green & White has only picked once at the No. 3 position and that turned out well in the form of UCLA RB Freeman McNeil. The Jets' Ring of Honor member was a three-time Pro Bowler and averaged 4.5 yards a pop.
While many were celebrating St. Patrick's Day Saturday morning in New York, Maccagnan made a move that assuredly had many in Jets Nation asking for more green beer. It's a trade that will be analyzed for years to come, but the Jets' football architect took a calculated swing and he has his team in position to strike big on Draft Weekend.
"It's going to be exciting to see what happens and how this class comes together as we continue our evaluation process," he  told us. "We're definitely looking to be active during the draft and do something or anything that will help us build this thing moving forward."
Everything was always on the table. We just didn't know when.