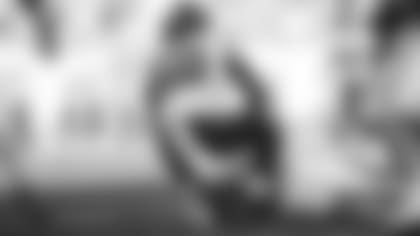 The Jets had two players — DEs Carl Lawson and Bryce Huff — crack Pro Football Focus' 90 club in their Week 5 win over the Dolphins.
Lawson, whose 92.5 grade led all edge defenders in Week 5, had 8 tackles and a strip sack that was recovered by Quinnen Williams. Lawson's 7 QB hits on Sunday were a career high. Since 1970, Lawson is the only player in franchise history with 7 QB hits in a single game and is only one of 15 players toreach that number in a game since 2000.
"I'm just very thankful to be back out there," said Lawson, who missed all of the 2021 season with an Achilles tendon injury. "I had a really tough road, my body is still coming back to me. I'm not 100% there, but when I finally do get there, I can be even better, so I have to keep working and keep the process."
Huff, who was not active for the first three games of the season, played in his second game on Sunday. He had a 90.3 grade, which ranks No. 5, with 4 tackles, 3 QB hits and 1 hurry. Huff, who has 4 sacks in 25 career games, has a 90.8 grade for the 2022 season, the second-best in the NFL among edge defenders (no min. snaps).
"We all know he can rush the passer," HC Robert Saleh said last week. "He can affect the passer and he did a lot of good things [against the Steelers]. "Hopefully, we get an opportunity to get him out there some more. He's been working hard in practice, he's been right there at the doorstep trying to get in and we felt like it was an opportunity to get him on the field and just change it up a little bit. He made it worthwhile, so kudos to him and hopefully we can get him out there again."