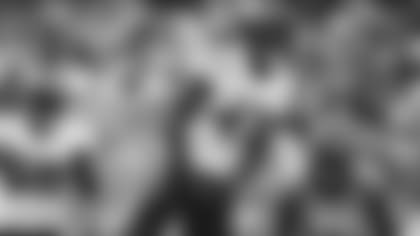 The Jets needed one final stop to complete a 20-17 upset victory over the AFC East-leading Buffalo Bills last Sunday and DL Bryce Huff delivered.
With 1:17 remaining in the game, Huff beat Bills RT David Quessenberry and pulled QB Josh Allen's arm back, jarring the ball loose. The Bills recovered the fumble at their 14-yard line, which led to a third-and-21 and an eventual turnover on downs to ice the game.
"Honestly, at that moment, I was just way calmer than I expected to be," Huff said. "But before we lined up, I just knew what was on the line, so I was just thinking 'lock in' and go out there and win my one-on-one and try to get the ball out when I get to the QB."
Huff lined up again on third down and flushed Allen out of the pocket on fourth down, which led to a pass broken up by rookie CB Sauce Gardner.
"When I first hit him, I was thinking, 'Where's the ball?' and then I saw it was down the field," Huff said. "They had a head start on us, so I knew they were going to get the ball back. I was honestly calmer than I expected to be, I don't know why, but my mindset after they recovered the ball was just to line back up and get ready for the next play."
Huff joined the Jets in 2020 as an undrafted free agent and came into this season having registered 4 sacks and 12 QB hits in 23 games over his first two seasons.
He was deactivated the first three weeks of this season, but since being activated against the Steelers in Week 4 Huff has earned playing time with his ability to win in one-on-one situations as he did on Sunday.
"Being able to rush the passer is like gold, it's a premium commodity if you will," HC Robert Saleh said. "It is something he does at an extremely high level. I know it took us a couple of weeks to get him out there. You don't normally dress 10 D-linemen in a football game. It's just a matter of me sitting with Joe [Douglas] and saying, 'screw it, we're dressing 10,' because we had to get him on the football field. He's done his job in terms of making sure that we keep it at 10."
In Week 8 against the Patriots, Huff registered a 45.5% pass rush win rate, the highest in the NFL according to ESPN and has averaged 0.65 seconds to cross the line of scrimmage, according to Next Gen Stats. That's the fastest get-off among all players with at least 50 pass rushes.
"He's got a superpower of speed and get-off," DC Jeff Ulbrich said. "And it shows up every time he's on the field. He's a tremendous asset for us in that way."
That top-level speed has translated to 1.5 sacks and 5 QB hits despite having played only 22.5% of the Jets defensive snaps since Week 4.
"I just making sure that every time I go out there on the field I go out there and try to get my best to make something happen," he said "Keying on the ball, making sure I'm in my stance, my feet tucked right and just loaded up ready to get off the rock."
Heading into their week off with a 6-3 record, Huff and the Jets want to continue their fast start. And that starts with focusing on the next task, the Patriots in Week 10 and Huff's next one-on-one.
"We're not the same old Jets," he said. "We've got a group of guys here that love to work. We show up to work every day with the same mindset, just get better and go 1-0 on Sunday."
See all of the top images from Sunday's 20-17 victory at MetLife Stadium.