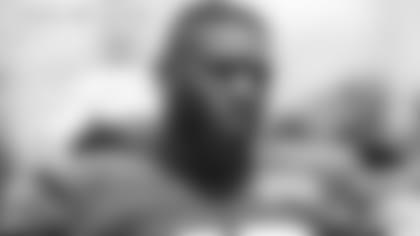 There has seldom been a figure more imposing than Jets D-lineman Micheal Clemons as he strode into 1 Jets Drive for the start of training camp -- shirtless and ripped, barely incognito in dark sunglasses, clutching a bat festooned with barbed wire.
Asked on Sunday after practice where he got the bat, the generally stoic Clemons said: "I know a guy." Ah, OK. Next question.
To say that Clemons, entering his sophomore season in the NFL, is one of the more-intimidating players on the Jets roster would be a soaring understatement. At 6-5, 270 pounds-plus, he oozes Texas-size toughness.
"Mike? I love his demeanor," head coach Robert Saleh said after practice on Sunday. "His intention is to be a violent football player. The cool thing is he knows how to turn if off off the field. I love his progress. He's gotten bigger and stronger. And he's gone inside. He's doing a really nice job. He's a cool piece, for sure."
Drafted by the Jets out of Texas A&M in the fourth round (No. 117 overall) of the 2022 NFL Draft, Clemons has brought an edge to the team. And though he was technically a rookie last season, at 25 years old Clemons is confident in who he is, what he can do and what he plans to do.
With the Jets opening their preseason schedule on Thursday night against Cleveland in the Hall of Fame Game in Canton, OH, Clemons was typically terse about what he wanted to show a national TV audience and the cadre of Jets fans who have embraced him and celebrate his persona.
"What do I want to show?" he said. "That the Jets got a f*ing monster. That's what I want to show."
In 16 games last season, Clemons notched 2.5 sacks, 36 total tackles (22 solo), 4 TFL and 6 (thundering) QB hits. He also blocked a punt in the Jets' victory at Green Bay, which Will Parks scooped up and returned for a TD.
Now he has found himself playing on the same team as the Packers' former long-time quarterback Aaron Rodgers. As aggressive as Clemons certainly is, he knows it's generally hands off Rodgers in practice. He only played 9 snaps against Rodgers last October.
"Aaron Rodgers is cool," he said. "Sometimes he's talking ball to a younger player, and he likes to play around. He might put out his leg and try to trip me."
While Clemons last season took 311 snaps (29%) on the defensive line, he also played 235 snaps (55%) on special teams. So far early in training camp, Clemons has been getting a taste of life as an inside d-lineman, mirroring the move made by teammate John Franklin-Myers.
"JFM has been doing this for a few years now," Clemons said. "Since I got here, he's passed along some advice to me from time to time. It will help me out as much as possible. That's cool.
He also complimented the organization for "bringing in some good dudes."
"The Jets do a great job," he said. "Al [Woods], Q-Jeff [Quinton Jefferson], veterans who can help the young guys by passing along what's helped them be successful. I'm glad about it and appreciative."
Last year, Clemons came to camp weighing 260 pounds, and left camp at 270, adding even more muscle. He plans to play at 272-273 this season.
"I feel the same for the most part, I do feel more power on my bull-rushes," he said.
And about that bat photo that went viral ... and the budding Cult of Clemons that has been growing organically among Jets fans.
"I just be me, and if you like it, you like it, if you don't, you don't," he said. "I just do me. I don't really think about it too much. It is what it is."
So, what's the bat all about? For Clemons, a fan of the TV show "The Walking Dead," it's a bit of a homage to villainous character, Negan. And although Negan named his bat "Lucille," Clemons' barbed-wire bat remains nameless -- at least to the world outside the Jets' locker room.
See the top images from Sunday's open practice at Jets Training Camp practice on a steamy day.