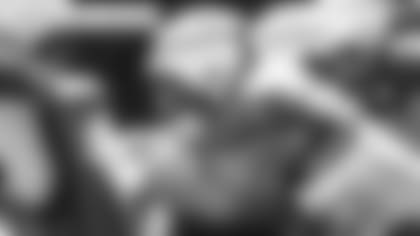 Jets center Connor McGovern is an eyes wide open kind of guy. He knows there is nothing fancy or particularly dazzling about being in the middle of the offensive line.
And after dipping a toe into free agency before signing a one-year deal with the Green & White only hours before the team introduced quarterback Aaron Rodgers, McGovern, 30, has been queried over and over since then about his approach to the position he held down for each and every offensive snap last season in the face of intense competition as the Jets prepare for the 2023 season.
After Wednesday's joint practice with the Carolina Panthers in Charlotte, NC, McGovern was clear about the situation ahead of Saturday's second preseason game.
"Bringing Tipp along ... if that's part of my legacy," he said, referring to the Jets' second-round draft pick Joe Tippmann out of Wisconsin. "And if that's my legacy, if I can turn him into a Hall of Famer and then be in Canton one day pointing to him when he gives a speech, that would be great. That's part of the game. I had guys when I started bringing me along that knew I was there as a young player to take their job. It's a tough job, it's a tough industry to be in but it's part of it."
As head coach Robert Saleh and quarterback Aaron Rodgers each acknowledged after practice, the offensive line remains a work in progress. Veteran tackle Duane Brown is working his way back after rotator cuff surgery and Alijah Vera-Tucker is coming back from a season-ending triceps injury. Likewise, Mekhi Becton is attempting to bounce back from injuries that ended his last two seasons. Add to the mix second-year man Max Mitchell, and the free-agent signing of Wes Schweitzer, Billy Turner and Trystan Colon -- guys with experience McGovern stressed on Wednesday. They are all part of more than a dozen guys vying for spots on the 53-man roster when Monday night, Sept. 11 rolls around.
"We've got to teach the next guy up," he said. "When I signed here, they told me they were going to draft a young guy [Tippmann] to compete, and there already were two guys [Schweitzer and Colon] here. They said 'we want to sign you but you're competing.' Obviously, the competition has made me better and gotten the best out of me in this camp. I know I'm not going to be around the game, the team forever. I'm trying to enjoy it as much as I can being here with a great group of guys."
As he gets closer to the start of his fourth season with the Jets, McGovern has compiled an impressive résumé. Last season he not only started all 17 games but played all 1,114 snaps. In his past three seasons, he has played a total of 3,055 offensive snaps, the most on the team over that span -- 98% in 2020, 99% in 2021 and 100% last season. He's not about to cede his position to anyone without a fight.
"There's no drill, no coach, no nothing that can replace what experience does," he said. "When I'm competing with a young guy I already have 80 starts [actually 84 over six seasons, three with Denver]. I know that helps me reach my full potential and it's something I can hang my hat on. But I'm competing with a guy with a younger body and fresher legs. But it has been fun sharing the knowledge and I enjoy it."
This week's set of joint practices with the Panthers have given McGovern and his compatriots on the offensive line their first taste of playing against a group other than "the most intense defense" they face every day. He said that Wednesday's performance wasn't "perfect, but that's rare in the game of football."
He added: "We've always had the next-man-up mentality on the offensive line. It has to be a room that gels together, it's not five guys, it's 10, 12. It will be great when we get Duane back and everyone's healthy and running full speed. Until then we have to perform at an extremely high level with who's available."
Saleh summed up his view of the offensive line a couple of weeks ago, saying: "There's a lot of time left. There's a lot to be decided over the next month."
Speaking specifically about McGovern, Saleh said: "He's by far the most comfortable. They're all going to get an equal opportunity to get that job. He's a vet. We've won games with him, he's started a lot of games for us and done a lot of great things for us. He's obviously a capable starting center in this league. He's proved it over and over again, so when the opportunity came to get him back it was kind of a no-brainer."
See photos of the Jets on the field in Spartanburg, S.C. for joint practice with the Carolina Panthers.