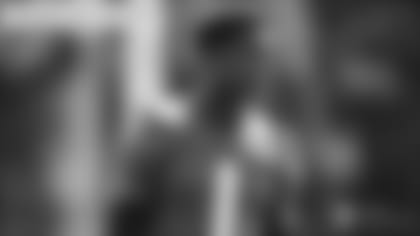 Jets CB Sauce Gardner is a man of his word. Last season, he told reporters his three rookie goals were to win the Defensive Rookie of the Year Award, earn a selection to the Pro Bowl and be named a first-team All-Pro -- check, check and check.
On Friday he held his end of a promise he made to his mother and graduated from the University of Cincinnati.
"I had to meet my mom halfway when it came to leaving early," Gardner said after Saturday's practice. "She wasn't really a fan of it. It's not really all about the money. She wanted me to get my degree. … I feel like that's the one box I haven't checked. Now I can really say I made it. If somebody asked me when did I know that I made it, that's when. When I crossed the stage."
Aside from taking a few selfies with Cincinnati and Jets fans (one student was wearing a No. 1 Jets Gardner jersey under his gown), the No. 4 overall pick in 2023 said it felt good to feel like a student again.
"It was everything I thought it was going to be," he said. "They asked me if I wanted to sit in the suite all the time or sit with my class. I actually wanted to go down there, so it felt even more real. Like my parents, my family could just look down and see me sitting. I'm not going to lie, it kind of felt like gameday a little bit. I was a little anxious. I didn't know what to expect, but it was a true blessing."
Gardner received a degree in interdisciplinary studies, the same program Chiefs Pro Bowl and All-Pro TE Travis Kelce completed. Gardner finished his final semester in the offseason and received some credits through his foundation, the Sauce Gardner Family Foundation. He held his first annual football camp in June.
"It's great man," Gardner said. "We just want to help out the under-resourced communities. We're just doing whatever to help out the new generation. That's why I wanted to have a camp, to just look everybody in their face and let them know they're going to be the new generation and they could do anything they put their mind to.
"Detroit has a lot of rough places and that's why I feel like I'm here for. I can just go back and help, but it's not just going to be a Detroit thing. Detroit, that's where I wanted to start. That's my hometown, but I live here now. I want to be as much of the impact that I can be wherever I'm at."
Gardner's intent may have been to inspire young kids, but he motivated some of his teammates to get their diploma.
"Seeing Sauce go out there, playful, goofy, exciting player that he is, to see him go get his degree is phenomenal, said All-Pro DT Quinnen Williams, the Alabama product who has nine credits remaining to complete his undergraduate degree. "It definitely motivated me to say I need to get my degree this offseason because I'm right there to get it."
In typical college fashion, Gardner almost missed his flight home as he was taking in the moment at his graduation party. But one of the first people to congratulate Gardner was his QB Aaron Rodgers, his new "best friend."
"That was love right there for me to just be able to have a guy like him reach out to me for graduating," Gardner said. "I can't wait to see we all got to store for us this season, but I'm looking forward to it."
See top photos of the Green & White back on the field at 1 Jets Drive during an open practice on Saturday.