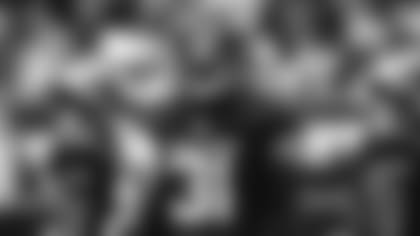 Bless Austin hasn't looked back since he was activated to the 53-man roster on Nov. 7.
"You're kind of in a safe spot when you're on PUP list because they can't really touch you," Austin said. "You just have to keep going hard in the training room and everything. When you're out here on the field, if you're not performing, they get somebody else to do it. Just to be out there, things change. Everything changed. Life changed when I started practicing. I love it."
Austin's return to the practice field from back-to-back, season-ending knee injuries at Rutgers took 417 days, but in a New York minute, Austin, a Queens native, went from the Active/NFL list to starter.
"Washington Redskins week, I sensed a little bit more urgency and pressure, so I sensed that I may have to be guy that's out there starting," Austin said. "Throughout the week, [DBs Coach Dennard Wilson] kept his foot on my neck, coached me hard that week, so I got a feeling that I was starting. He put the pressure on me. He tried to make the practices more mentally challenging than the game, so when you get to the game, it's easier."
Austin, the Jets' sixth-round pick in 2019, has totaled 12 tackles, 4 pass defenses and 1 forced fumble this season. Per Pro Football Focus (PFF), he's been targeted 21 times and only allowed 10 receptions since his debut in Week 10. He's also the second-highest graded cornerback in the league since returning to the field.
"It's going terrific, man," he said. "It can't go any better than this. To just be out there playing football again, it's definitely a privilege and that's something that I'll never take for granted again. Honestly, I expected myself to be able to bounce back, but I didn't realize how fast I'd be able to adjust to playing at this level. That's one thing I'm actually surprising myself about."
When General Manager Joe Douglas told Austin he was going to be activated, he shed a tear but didn't allow himself to be too emotional because he knew it was only the beginning. Austin had been attending meetings and burying his head in the playbook all summer while rehabbing at the Atlantic Health Jets Training Center. After four weeks of game action, he wants to prove his early success isn't beginners' luck.
"I just want to show the ability to be consistent, be dependable," he said. "That's what I pride myself on. I want my teammates to know that they can count on me every game. I'm not going to have this game when I'm going to through a flux. I know at corner in the NFL, that can happen at times, but I don't want to be one of those guys. I have high standards for myself and there's a reason my coach coaches me the way he does. He truly believes in that as well."
He added: "The thing I love about our coaching staff is, regardless of what performance you had, there's no patting you on the back on a daily basis. They'll say one thing to you, one word like 'keep working' and that's all I need. I don't need to hear the 'this and that.' I'm self-motivated to come out here and perform, especially for my teammates. I pride myself on being a great teammate. Every now and then, [defensive coordinator Gregg Williams] will say good job out there, but he definitely makes sure I'm not getting complacent."