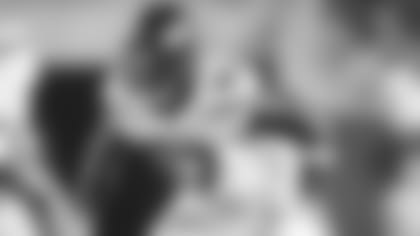 The Jets have activated OL Carter Warren to the active roster and placed CB Justin Hardee on injured reserve. The Green & White also elevated DBs Craig James and Ke'Montae Hayes from the practice squad to the active roster for Sunday's game against the Eagles. Both players will revert back to the P-squad after the game.
Warren (6-5, 323), the team's fourth-round pick out of Pittsburgh, returned to practice Oct. 4 after he was placed on injured reserve on Aug. 30. He took 43 snaps in the Hall of Fame game against the Browns on Aug. 3 before he sustained an injury. A Paterson, NJ, native, Warren started 39 games at left tackle for the Panthers over the past four seasons and earned All-ACC honors in 2021.
Hardee (6-1, 200) hurt his hamstring in last week's win against the Broncos. The Pro Bowl gunner took 115 snaps on special teams for the Jets this season over the first five games. Hardee, one of the Green & White's captains, has 1 special teams tackle on the season. Since he signed with the Jets in 2021, Hardee ranks No. 4 in the NFL with 838 special teams snaps and No. 5 with 27 tackles.
James (5-10, 195) most recently signed with the Jets P-squad Oct. 3 and was elevated for last week's game at Denver where he took 1 snap on defense and 13 on special teams. He's spent time with Minnesota, Philadelphia and the Jets since entering the league as an undrafted free agent with the Vikings in 2018 out of Southern Illinois. He played in three games with the Vikes that season, then 18 games with one start for the Eagles in 2019-20. James has career regular-season totals of 17 tackles, one pass defense and one fumble recovery. This year, he was re-signed by the Eagles in January, released in mid-July, then signed with the Jets on July 20 and was waived July 26.
Hayes (5-9, 188) signed to the practice squad Oct. 3. He was most recently with the Ravens practice squad after spending training camp with Detroit and Baltimore. He originally signed with the Jaguars in 2019 as an undrafted free agent out of Appalachian State. Hayes has played in 13 career games – 4 with the Dolphins, 5 with the Panthers, 2 for the Patriots and 1 each for the Jaguars and Vikings – and has 16 tackles on 207 snaps.