Another TestThe Jets have proven to be a tough out at home, winning four contests and dropping a trifecta of close decisions. But can they raise their level of play on the road Sunday at Sports Authority Field at Mile High?  The Green & White are just 1-4 away from MetLife Stadium with their sole win being a 17-14 triumph over the winless Browns.
The Broncos are 3-3 at home although they've lost three consecutive contests in Denver. Only the Browns have worse numbers in the turnover differential and giveaway departments as Denver is -16 overall and has turned it over 27 times.
"This is a game that this team can use as a building block for its foundation, being able to take that next step and the type of culture and attitude you want for your team, for your young players to learn from," said former Jets QB Chad Pennington on The Official Jets Podcast. "This is a difficult game for a young player. You've come off a big emotional win at home and now you're going on the road and playing a team that is down and out. They're 3-9."
"They have to realize they can't overlook anybody, they haven't earned the right to overlook anybody," added former Jets LB Bart Scott on Inside the Jets. "And if you have never played in Mile High before, they could be in for a rude awakening because the altitude is something that can be an issue. You want to make sure you are efficient getting off the field on third down and you're efficient converting on third down."
Tale of Two QuarterbacksJosh McCown is having a career year for the Jets. Reunited with QB coach Jeremy Bates, McCown is thriving under first-year coordinator John Morton while completing 67.8% of his passes and he has already established personnel bests with 2,880 yards passing, 18 touchdowns through the air and an additional five on the ground. In Weeks 12-13 against Carolina and Kansas City, McCown combined to pass for 638 yards and total six touchdowns.
"When he's on the field, he's very effective, and I think he's got to the point where he's smart enough to know and realize his talents of what he can and can't do," said head coach Todd Bowles, who noted the 38-year-old McCown has become less reckless as runner.
Broncos head coach Vance Joseph has received uneven results from his passers as Trevor Siemian, Brock Osweiler and Paxton Lynch all have lined up behind center. Siemian, a third-year player from Northwestern who had three interceptions in the Broncos' 35-9 loss at Miami last week, is slated to make his ninth start on Sunday. He is completing just 58.9% of his passes with 11 touchdowns and 13 interceptions.
More Than SurvivalFor the first time since 1967, the Broncos have lost eight consecutive games. After starting 3-1, the Broncos haven't tasted victory in more than two months and they rank No. 30 in scoring differential as teams have outscored Denver by 109 points.
"The message was we don't want to just survive this next month," Joseph said in the Denver Post. "We want to push forward — keep working, keep studying, keep pushing details and trying to win football games. We don't want guys just showing up to work and just checking boxes. We want to go to work and push this team into a positive area."
Special MomentThe Broncos' special teams, who had a disastrous performance a couple of weeks ago against the Patriots,* *had a punt blocked and allowed a long punt return at Miami plus Isaiah McKenzie's sixth fumble led to a safety. Joseph has benched McKenzie as the team's punt returner, replacing him with Jordan Taylor.
Both P Lachlan Edwards and K Chandler Catanzaro will surely be excited for the thin air and is this the week where speedster JoJo Natson breaks free for a long return?
"I think I'm close," Natson said. "I'm just trying to take it one week at a time and build my confidence up because I feel like that's all it is for me right now. That big one is going to come, so my coach has told me be patient and it's going to come.'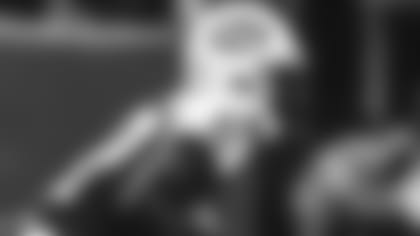 Miller TimeThe Broncos still can get after it defensively, ranking No. 5 overall while yielding just 295.6 yards per contest. Their fourth-ranked pass defense, featuring cornerbacks Aqib Talib and Chris Harris, will be challenged by a Robby Anderson/Jermaine Kearse combination that has combined for 30 receptions for 515 yards and three touchdowns the past two games. Coming off an impressive day against the Chiefs, the Jets O-line and McCown are set to match up with the NFL's premiere pass rusher in Von Miller.
"Your footwork in the pocket is really critical. You can't fade back in the pocket, you start to get to nine, 10 and 11 yards in your drop and Von Miller is going to have a field day," Pennington said. "Also you can't get into three and four hitches in the pocket. Once you get to that third hitch and you've gone through No. 1 and No. 2, if No. 3 isn't there — you're moving.  You have to move up in the pocket and get out and use your feet to get some yards because he will completely ruin your day if you do not."