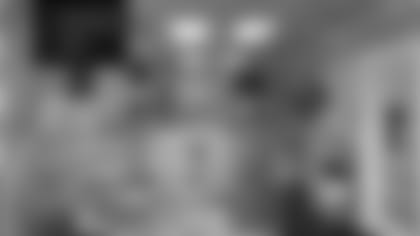 The Jets and Visa teamed up to reinforce their commitment to support black-owned small businesses, amplify black voices, and help provide financial stability to communities in need during these particularly hard times.
The commitment hopes to further amplify the importance of local small businesses in the North New Jersey area, provide tangible support, and help bring financial stability to the communities that support the New York Jets.
The Jets, in conjunction with the Morris County Chamber of Commerce and the African American Chamber of Commerce in NJ, selected two black-owned small businesses in Northern NJ, Sweetpea Technologies, LLC and Mo'Pweeze Bakery. Both businesses will receive a $10,000 grant as part of this commitment.
"We are delighted to partner with Visa to help amplify black voices and the importance of supporting our local neighbors," Jets President Hymie Elhai said. "It is our hope, through this collaboration, that we can provide financial stability to communities in need during these hard times."
Located in Denville, NJ, Mo'Pweeze Bakery is a top 10 allergen free/vegan bakery that has based its mission on a family goal: having an allergy can indeed be a treat. Christine Allen founded the bakery almost seven years ago out of necessity for her then two-year-old who had life threatening food allergies. Since then, the business has grown into a successful bakery offering everything from personal catering, cupcakes, custom cakes and more. Their treats can be found in Shop Rite and Whole Foods stores within the Tri-State area. With the grant, Allen hopes to bring back staff members who were let go last year due to the pandemic. Their hope is that the grant will help provide them with the resources to implement a more efficient process when producing their products.
"The most important thing is knowing what you are doing is your passion and making sure you are getting up everyday and pushing through," Mo'Pweeze Bakery Owner Christine Allen said. "The pandemic has been really challenging for a lot of small business. We went through a panic mode because everything was closing around us, we didn't know what was going to happen, we just had to be creative to try to just stay on top of things so that we were making a little but of income to pay the rent and keep the lights on."
Founded in 2004 by Alphonso Croom, Sweetpea Technologies is located in Madison, NJ and provides video and audio transfer services, specializing in transferring old media to digital media. Their consumer business has been hit by the pandemic and they now primarily operate as an online service only. Through the grant, Sweetpea Technologies will look to update their equipment and further their marketing opportunities to help promote their business.
"We're so excited to get this grant. It could not have come at a more crucial time," Sweetpea Technologies Founder/President Alphonso Croom said. "Our business is predicated on having a lot of equipment, maintaining that equipment and keeping it upgraded and running to keep up with the volume of our customers is always a continual challenge. So, this grant is going to allow us to upgrade that equipment."