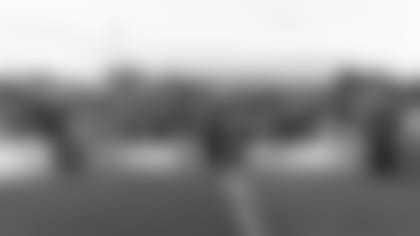 The New York Jets and Chicago Bears celebrated the success of the inaugural Jets and Bears NFL Girls Flag league at an Americana-inspired Championship Event in Ealing. The event taking place yesterday saw the girls showcase the benefits of Flag Football and compete for the Championship title.
The league was a new and unique opportunity for 130 girls aged 12-14 to compete in Flag Football, the non-contact version of American Football, which is an accessible, fun and action-packed sport. The league ran for five weeks building up to the Championship Event held at Ealing Trailfinders Club, Ealing.
At the festival event, twelve teams competed to cement their place in the League table, with Ealing Fields (Jets) pipping Beaconsfield (Bears) to the post with a 38:12 score in the final Championship Game. They will have the opportunity to play against a girl's flag team from Germany at the NFL London Games taking place in October at the Tottenham Hotspur Stadium. They will be honoured on field as part of NFL's efforts to grow the sport's popularity in both countries.
Off-field the girls, their family and friends, were treated to an American family BBQ with a DJ, food, hair braiding and NFL style face painting.
Phoebe Schecter, Global Flag Ambassador and Team GB NFL Player was also on hand to lend words of encouragement to the girls. Former Bears' defensive back Shaun Gayle and former Jets' safety Erik Coleman were also in attendance to hand over the trophy to the winning team.
The Jets and Bears NFL Girls Flag league was launched to introduce a new sport to young girls in the London area and overcome barriers in physical activity. The benefits of Flag experienced by the girls include creating friendships, life-long psychological skills in communication and resilience, and supporting healthy mental wellbeing.
The inaugural league comprised of two conferences of six teams, with the Jets and Bears running one each. As part of this, the girls received multiple bespoke coaching sessions from a qualified NFL Flag coach, along with individual Nike-branded kits.
Now, with the inaugural league coming to a close, both teams are already planning their growth ambitions for 2024 and beyond.