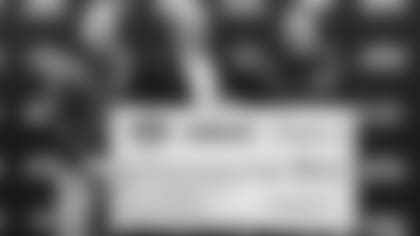 The Jets and Atlantic Health System announced on Monday, May 1, a series of Youth Football CPR and AED Education Sessions. The announcement occurred at the Atlantic Health Jets Training Center during a Youth Football Coaching Clinic in conjunction with the Super Football Conference (SFC), the nation's largest high school football conference. The Jets are committing $15,000 to fund the education sessions and an additional $5,000 to the SFC to purchase AED units for underserved high schools.
"The New York Jets are excited to partner with Atlantic Health System and the Super Football Conference to provide these important CPR and AED sessions to youth football coaches," said Jets Vice President, Community Relations Jesse Linder. "By removing any associated costs for coaches to attend these sessions we hope to educate close to 400 coaches this summer before the next youth football season".
Designed to provide coaches with the lifesaving skills of CPR and AED use, sessions will be held at the Atlantic Health Jets Training Center from June through August in advance of the fall youth football season. The two-hour sessions will feature the American Heart Association's Family & Friends CPR Course and be taught by instructors from Atlantic Ambulance, part of Atlantic Mobile Health. Coaches from the following leagues will be invited to attend at no cost:
North Jersey Pop Warner
Newark Pop Warner Football League
New Jersey Suburban Youth Football League
Northern Bergen Junior Football League
Morris County Youth Football League
West Essex Jr Football League
Tri-County Youth Football League
Bi-County Junior Scholastic Football League
"We applaud the NFL and the Jets organization for working to get more people trained in CPR, something we've been advocating for years," said Matthew W. Martinez, MD, Director of Atlantic Health System Sports Cardiology at Morristown Medical Center. "Everyone can be a first responder by learning this simple lifesaving intervention. Learning CPR and AED use are a critical part of how we can all improve the health and safety of our communities."
On March 27, the NFL announced the launch of The Smart Heart Sports Coalition, a collaboration among the NFL, NBA, MLB, MLS, NHL, NCAA, the American Heart Association, American Red Cross, Korey Stringer Institute, National Athletic Trainers' Association and Damar Hamlin's Chasing M's Foundation. TheSmart Heart Sports Coalition is advocating for all 50 states to adopt evidence-based policies that will prevent fatal outcomes from Sudden Cardiac Arrest (SCA) among high school students.
"The Super Football Conference administration and coaches are excited to host the first annual Youth Football Coaches Clinic with the New York Jets at the world class Atlantic Health Jets Training Center in Florham Park," said SFC President and River Dell High School Athletic Director, Denis Nelson. "A committee chaired by Athletic Directors Mike Raimondi from Ridgefield Park High School and Mike Koth from Northern Highlands High School have put together an outstanding group of SFC coaches to serve as clinicians and provide their expertise to our youth football coaches from the communities of our member schools. The SFC is committed to growing and promoting the great game of football at all levels, both on and off the field. We look forward to helping coaches and high schools to access CPR and AED resources."
As part of this campaign, the NFL Foundation has committed more than $1 million in grants to support nationwide CPR education and AED access. NFL clubs may leverage these grants to partner with public or private nonprofit organizations to support CPR education wherever needed, including, for example, among youth and student athlete programs, elementary and secondary schools, and the general population. The NFL Foundation club grants will also support high schools – especially those in financially distressed communities – in purchasing and maintaining AEDs. With this targeted funding, clubs may help states meet the goal of making AEDs available in every secondary school athletic setting.