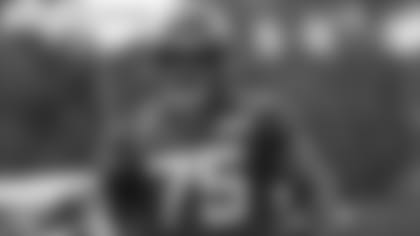 The Jets have yet to discover if there is anything Alijah Vera-Tucker can't do. 
The third-year offensive lineman out of USC has seen action at every spot on the offensive line, except center. And after missing much of last season after sustaining a triceps injury in the Week 7 game at Denver, the man who came East to play guard has once again found himself in the conversation for his crazy versatility.
"You all know me," AVT told reporters on Thursday. "I'm going to play wherever the team needs me to play, where they think I fit best. Guard or tackle, I'm going to go out there and do my thing. Right now everything is pretty set, but like last year things can change in a heartbeat."
Even though he was limited to those seven games last season (after having played 100% of the snaps the previous six games), AVT switched from left to right guard before the start of the season because of injuries that struck across the offensive line. He started at left tackle (Week 4), then at right tackle (Week 5) for the remainder of his season. AVT was one of only seven players with 50-plus snaps at three different OL positions in the 2022 season.
"Right now, I'm primarily at right guard, and I'll focus on that," he said after practice at Wofford College in Spartanburg, SC, a session that was supposed to be a joint practice with the Carolina Panthers, but was turned into a solo session for the Green & White because of bad weather.
And although AVT's versatility offers the team's first-year offensive line coach Keith Carter the luxury of his service, new OL teammate Billy Turner pinpointed the challenge from switching sides.
"Everything is an adjustment," said Turner, a former Packer teammate of QB Aaron Rodgers. "It's like wiping your a** with your off hand. Feet, head, hands ... Everything is the complete opposite. It's the same technique, but you have to switch things around in your brain."
AVT had played in 100% of the snaps on the offensive line in the 2021 season after being drafted as the team's second first-round pick (No. 14 overall) after the Jets selected Zach Wilson with the No. 2 overall pick. At 6-5, 310, AVT also played guard and tackle at USC.
"AVT is a very special football player," head coach Robert Saleh said on Thursday. "You know how we feel about AVT and what he did a year ago is unprecedented in football. We've got full confidence. We want to keep him at guard because we think he's an All-Pro guard and he would still be an unbelievable tackle and would probably be an All-Pro tackle. But we know he will be his absolute best on the inside, but his versatility is very, very beneficial."
When Saleh was asked on Thursday if Vera-Tucker would again be asked to play tackle, he said: "We're going to play our best five and if that's how one of them shakes out ... it's something we're going to have to talk about."
As they prepare to play the Panthers on Saturday afternoon, the Jets' second game of the preseason, the offensive line remains a work in progress. Duane Brown is recovering from rotator cuff surgery while Mekhi Becton is working his way back from knee surgery. Second-year man Max Mitchell is in the first-team mix along with Turner, and Wes Schweitzer and Trystan Colon, both of whom were signed in free agency and are expected to provide depth. While there is competition at center, veteran Connor McGovern and rookie Joe Tippmann are not expected to shift around.
"My optimistic side says we'll get it done," Saleh said, adding, "As a coach you want it done yesterday. We want these guys rolling, we want confidence, we want to start humming."
Though AVT said he's fully prepared for whatever the regular season brings, he also knows there are certain to be speed bumps along the way.
"If something bad goes down, I feel like I can go out there and perform at a high level," he said.
See photos of the Jets during Thursday's training camp practice in South Carolina.