While football will always reign supreme for Jets players, coaches and fans, the NFL will be sliding to the back burner for the next week or two to make room for a handful of major sporting events.
Portugal's national soccer team began training for the World Cup at the Atlantic Health Jets Training Center on Tuesday, the puck will drop for the start of the NHL Stanley Cup Finals between the New York Rangers and the Los Angeles Kings tonight, and the Miami Heat will tip off their NBA Finals rematch vs. the San Antonio Spurs on Thursday night.
It's no Jets vs. Raiders Week 1 at MetLife Stadium, but it's a great time to be a sports fan nonetheless. And our first two picks of this year's draft, S Calvin Pryor and TE Jace Amaro, are as excited as anyone.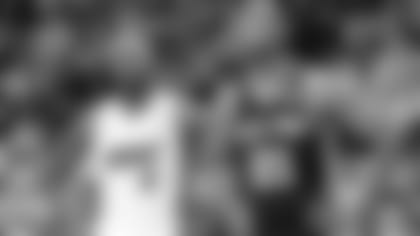 "He's a big fan of the Spurs and I'm a big fan of the Heat, so we go at it every day," Pryor said. "With him growing up in San Antonio and me in Florida, we're both going with our home teams."
Pryor started rooting for Miami's NBA team when Dwyane Wade was drafted in 2003, but LeBron James has been his favorite player since his Cleveland days.
"Once LeBron came to Miami, that's when I really became a huge Heat fan," Pryor said.
Meanwhile, Amaro's dedication and loyalty to the Spurs was abundantly clear when he chose to join the AT&T Center crowd for Game 2 vs. the Portland Trail Blazers rather than sit among the NFL draft prospects at Radio City Music Hall for Round 1 early last month.
The smack talk and banter between the top two rookie draft choices will remain in good spirit.
"It's fun, friendly, gives you something to talk about every day," Amaro said. "It's bonding us a little bit and definitely letting us get to know each other a bit better."
So, Calvin, why will the Heat three-peat as champions?
"I feel like we're ready for the challenge. We know who we're up against, and I feel like we're much better prepared this time around. Plus, it's just LeBron's year. Everybody compares him to Jordan, so it's only right that he wins three championships in a row."
"I just think that last year, the way they lost, they seemed like they had it in the bag at one point in Game 6. Those guys have been together so long, and I'm probably a little biased, but I just think that sometimes the good guys have to win. Especially since Tim Duncan, who's a real quiet guy, said that they're going to get it done this time. There's no doubt."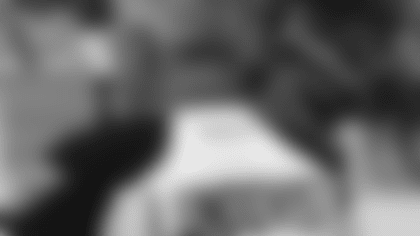 Of course, many New York Jets fans are also New York Rangers fans with no fingernails to waste worrying about some petty basketball series.
"I'll be in front of my TV watching," head coach Rex Ryan said of his plans to root for the Rangers in Game 1 tonight. He's a bandwagon fan in general, he admitted, but he has been a Rangers fan since he was a kid. Plus, "I know the way it is here," he said. "I want their teams to support us, so you're darn right I'm going to support them."
Anyone who follows DE on Twitter knows he, too, is a Rangers fan, though it hasn't always been that way.
"I actually just got into the sport this year," he told me. "I got invited to go to a game and just fell in love with the sport. Those guys skating backwards and just stopping on a dime, it's something that a 300-plus pound man probably can't do, so it's cool to see.
"I'm happy that they're in the Cup. I'll definitely try to catch one of the games, either 3 or 4," Wilkerson said. "LA's a good team, don't get me wrong. I'm not trying to take anything away from them. But I'll say Rangers in six. Finishing them off at home would be the icing on the cake, although you can never go wrong by winning a series in someone else's house. Either way's fine."
As for Cristiano Ronaldo and the rest of our international "football" guests…
"I think we have two guys that maybe know, 'Hey, that's a soccer ball,' " Rex joked. "I understand they've got a guy that's pretty decent. If all you've got is one name out there, you're pretty good, I think. Then somebody said he made $28 million on his contract alone and I was like, 'What?' Golly. So Seth [Rex's son] is now kicking a soccer ball and not a football."