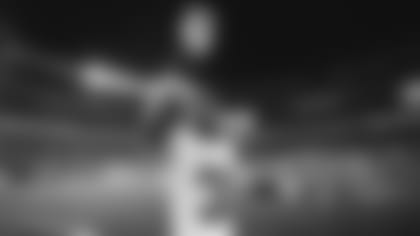 To no one's surprise, Jamal Adams played a key role in the Jets' first victory of the season. The third-year safety, a Dallas native, helped seal the Green & White's 24-22 win over the Dallas Cowboys with a pivotal pass rush and the game on the line.
"It's just one, but it's a good one obviously. It's versus my hometown, so I'm very excited about it," said Adams, who registered nine stops, one tackle for loss and a pass defense. "It's just another stepping stone. Everybody has been counting us out, and didn't have faith in us, including some of ours as far as fans. And we just want to get that faith back into us. We just want to keep stacking the chips, understand that it's a long season, understand that we still have a losing record, but we just want to take it one game at a time."
The Jets jumped on the scoreboard first Sunday and maintained their lead throughout the game, but the Cowboys threatened to tie it up after QB Dak Prescott rushed in for a 4-yard TD with just 43 seconds remaining. With the game in the defense's hands, Adams helped secure the victory by shooting through a gap to hit Prescott, forcing him to throw an incomplete pass to veteran TE Jason Witten.
"It was huge because that's all we practice and that's what we preach throughout the week as far as finishing," Adams said. "I thought we did a great job as far as communication and even though they scored — we had to still play and continue to play… So that's just finishing, that's just playing as one and never quitting, whatever it takes."
The Cowboys entered the game leading the NFL in total offense and they amassed 398 yards against the Jets while converting on 59% of their third downs (10-of-17). Running back Ezekiel Elliott became the first back to rush for 100 yards against the Jets, but he was forced to do it on 28 tough carries. Despite the numbers, though, at the end of the day it came down to something the Jets defense has been harping on since the beginning of the season—finishing games.
"Honestly just doing our job and playing as one on defense. That was our main goal, and that was our main focus going in," Adams said. "Believe it or not, we've had two outstanding weeks of practice. Last week we just didn't get it done, but going into this week we knew we had to get this win, and we knew what it took and what it's going to take. It's just communication and playing hard."
Without two starters in star LB C.J. Mosley and DL Henry Anderson, when the final whistle blew, Gregg Williams' unit recorded one sack, eight quarterback hits, three tackles for loss and three pass defenses. The Pro Bowl safety said it all came down to a mindset and remaining confident in the team's game plan.
"Everybody was just calm, and it was really a beautiful sight to see," Adams said. "Because usually we panic, guys panic and they're not sure about what's going on or if we're going to stop it. Everybody believed, and we made it happen."