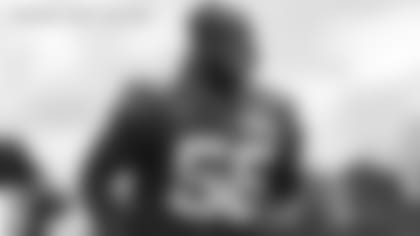 The first words out of the mouth of Jets linebacker Quincy Williams after practice on Wednesday said it all.
"This is the best camp I've been a part of, just because in our minds we have the No. 1 defense and the No. 1 offense going against each other every day," Williams said. "And against a future Hall of Fame quarterback, every practice is like a game, he puts us in game-type situations. Every single practice is like a game-type thing."
That "future Hall of Fame quarterback," obviously, is Aaron Rodgers, the four-time NFL MVP now roaming the field, taking it all in, while also offering welcome insights to his teammates.
"Players in the locker room come up to him and ask him to look at things real quick," Williams said. "So he says, 'If I'm seeing it, they're [the opposition] going to see it.' So it's helping us disguise things."
Now entering his third season with the Green & White, with a new three-year contract in hand (just like the new deal his younger brother, DL Quinnen), Quincy Williams said that he's ready to build on his 2022 season, which was the best of his professional career.
Last season, Quincy Williams racked up 106 tackles, had 3 sacks and 12 TFL, helping the Jets' defense to improve from No. 32 in yards allowed to No. 4.
After he signed in late March, head coach Robert Saleh said: "Last year, I thought he had a good year, I think it can be a heck of a lot better. With his length, speed and violence, I think he's top five in those three, with regards to speed as a linebacker and the way he hits. I mean, it's like a freight train when he hits people. He erases a lot of issues because he's got so much speed and length and violence to his game. So we're excited to get him back, excited to continue to work with him, excited to get him to home in on his skills, and he's only going to get better."
Williams, one of several "value" additions to the team after he was plucked off waivers by general manager Joe Douglas ahead of the 2021 season, started and played in 15 games last season. He missed victories in Week 4 (at Pittsburgh) and Week 5 (at Miami) with a tender ankle.
"This offseason was very, very good," he said. "Number 1, knowing my brother is going to be here with me a couple of more years. He's been my partner in crime. And my niece, I've been learning a lot being an uncle. As soon as I get home, Miranda is teaching me."
While Quincy signed a new contract in March, his brother did not complete his deal until right before the start of training camp.
"We talked about it everyday," Quincy said. "And now, the dream continues. Our dream when we were younger was playing on the same team. The dream continues ... It's go time. The OTAs were lonely, not seeing him, and we come to camp and our lockers are right next to each other."
Williams, like nearly all of his teammates who have been asked, said he's been in awe of the way Rodgers approaches things on the field, but especially his availability and smarts off the field.
"From the day he came in for OTAs, he pulled me to the side and we talked about last year when we played against them [the Packers]," Williams said. "You can ask him anything: 'What is he seeing? Why did he throw that pass? What holes did he see?' Now it's how we can disguise it."
"He's a player, a brother in the locker room," Williams said. "He is laughing, joking, singing songs. It's surprising to me that he likes rap. For real. He's asked us to play some songs in the weight room, and I'm like 'You know that? How do you know that song?' "
Rodgers, who spent 18 seasons with the Packers, said he's having fun in his new environment and is feeling comfortable in his new role with new teammates.
"I love C.J. [Mosley], but he's a bit quiet," Rodgers said. "Quincy is more vocal."
See the best images from Wednesday's training camp practice at 1 Jets Drive.