You can never have enough playmakers in the NFL.  The Jets narrowly missed the playoffs last season because frankly they didn't have enough of them.  And while from a content perspective, we spent a lot of time focusing on the offensive side of the ball in Indianapolis, the Green & White need more playmakers on defense and on special teams.
The Jets ranked 31st in takeaways, recording five in their past two games to reach 15.  They also produced zero kick return touchdowns, placing 18th in KR average (22.7) and T15 in PR average (9.0).
As the Combine wrapped up early this week, the Jets and the rest of the NFL watched Oklahoma State CB Justin Gilbert put on a show at Lucas Oil Stadium.
"I thought Justin Gilbert made a statement today," said NFL Network analyst Mike Mayock.  "At over 6'0", at over 200 pounds, 33 inch arm length, he ran 4.37.  He was smooth in the drills.
Last season, Gilbert led the Big 12 with seven interceptions and he took two back for scores.  He also had six career kick return touchdowns for the Cowboys.
"I think I'm a dangerous return man with the ball in my hands and on an interception — there is always a possibility for me to take it back to house," Gilbert told reporters.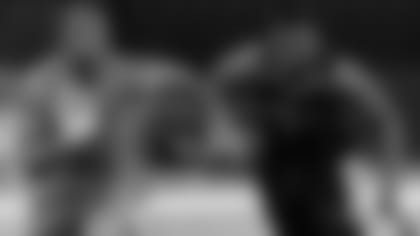 With the League Year approaching, the Jets will soon have a decision to make with Antonio Cromartie.   While you can never have enough corners in a passing league, the Jets' need for a corner would dramatically increase if Cro — who reportedly carries a $14.98 salary cap charge in 2014 — is not back.
Gilbert, who estimated that he played press coverage 70% of the time for the Pokes, was a high school QB who made the transition to CB.
"You have to be able to use great technique because a guy like me — I have long legs, short torso," he said.  "So it's kind of hard for me to get my hips down and turn around and all that. But the more you work at it, the better you get at it."
In addition to Gilbert, both Michigan State's Darqueze Dennard and Jason Verrett helped themselves with solid showings.  While Jadaveon Clowney displayed his freak athleticism with a 4.47 time in the 40-yard dash, a couple of other pass rushers also hope to be difference makers on the next level.
Buffalo LB Khalil Mack has a nose for the ball, forcing 16 fumbles over the course of his career.  Owning experience both standing up and with his hand in the dirty, Mack had 28 sacks and 75 TFL wearing No. 46 for the Bulls.
"The NCAA video game — the first one that came out I was only rated a 46 overall with 37 rating for speed, and it was a slap in the face man," he said.  "Because I knew deep down in my heart I was better than a 46. And, it just so happened, I was already No. 46 and I kept the number."
After making a transition from RB to OLB, UCLA's Anthony Barr racked up 23.5 sacks the past two seasons.  Mack and Barr showcased almost identical straight ahead speed in Indy (4.65 and 4.66), but Mack tested better in strength numbers and Barr showcased better COD times and short area quickness.
"I think moving backwards, going back in coverage, was something that was new to me," Barr said.  "But now I feel comfortable with that. Just sort of getting used to the position. It's still sort of new to me in a sense. It's exciting. If I continue to work, the sky's the limit."