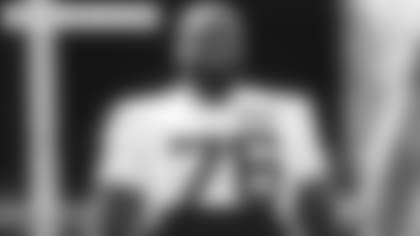 After undergoing surgery to repair his left shoulder in the offseason, Duane Brown returned to Jets practice this week. Even in his 16th NFL season, the veteran left tackle said last season and his subsequent recovery taught him a new lesson.
"The main thing is that I have a certain level I am accustomed to playing at," said Brown, who was removed from the active/physically unable to perform (PUP) list on Tuesday. "And being out there basically with one arm last year, it is kind of hard to get that accomplished like you want to. You just want to win, and we had a lot of promise and steam that stalled. But last season and the offseason was a great learning experience. I am always appreciative of the journey, and I am grateful for it."
Brown, who missed the first four games of the 2022 campaign, returned in Week 5 and played 11 straight games before sitting out the season finale against the Dolphins.
Brown turns 38 next Wednesday (Aug. 30) and has played in and started 215 NFL games. A five-time Pro Bowler, Brown battled each snap last season and became the first recipient of the first "Selfless Warrior" Jets team award.
"He is another guy that brings stability," HC Robert Saleh said of Brown. "A wealth of knowledge. A wealth of experience. He knows how to play the game of football and prepares week in and week out. There is always a benefit to guys like him. … People won't even get out of bed for the stuff we went through. And he was playing NFL football games."
During recovery from surgery, Brown said he had trouble doing ordinary things like sleeping. But retirement never entered his mind.
"The surgery itself was pretty tough," Brown said. "And you always have those thoughts of what it is going to look like coming back. But in my mind, I am always up for the challenge."
On Wednesday, Brown went through drills on the field adjacent the rest of the team and he participated in one-on-one drills Thursday and worked out separately during the team periods. In addition, Brown's  sported a new look,wearing No. 76 after donning No. 71 last season. Brown wore No. 76 for his first 14 seasons with the Texans (10 seasons) and Seahawks (4).
"Today [Thursday] was the first time I got to actually strike someone that weighed 300 pounds and see what it felt like," Brown said. "And I was encouraged. I feel good."
Brown won't play in the preseason finale Saturday against the Giants, but Saleh said he expects him to be ready for the season opener against the Buffalo Bills on Sept. 11 at MetLife Stadium.
"He's going to get a little bit more integration into practice," Saleh said Wednesday. "But he could be with us, could be on the side, but he's here and he's working."