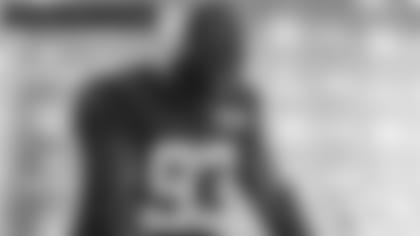 Since signing with the Jets in early April, defensive tackle Quinton Jefferson has experienced a renewed interest from and closeness to his immediate family.
"My parents came up every weekend the last few weeks," Jefferson, a Pittsburgh native, said after practice on Friday. "I was out on the West Coast the last few years and not a lot of family wanted to make the trip. Now they got no excuse and I hope they come to a few games this year."
Until he was drafted by Seattle in the fifth round of the 2016 NFL Draft (No. 147 overall), Jefferson was an East Coast guy -- having grown up in Pennsylvania and then playing in college at Maryland.
After his rookie season with Seattle, Jefferson was cut and signed off waivers by the Los Angeles Rams. After less than a month on the practice squad, he re-upped with the Seahawks, where he stayed for four seasons. It was then off to Buffalo for a season, then a season with the Raiders and then back for a third spin in the Pacific Northwest where he played on the inside with his current Jets teammate Al Woods.
Last season Jefferson (6-4, 291) played in all 17 regular-season games (3 starts) for the Seahawks, notching 29 tackles, a career-high 5.5 sacks and 13 QB hits. This season, he joins a versatile and stacked Jets defensive line.
"I don't want to compare him and Solly," said head coach Robert Saleh, referring to Solomon Thomas, who was with Jefferson on the Raiders in 2021 and who re-signed with the Green & White in the offseason. "They're similar in that they play with unbelievable effort, power and strength. They have good pass-rush ability. They're just another couple of high-motor, high-energy guys. He [Jefferson] is also going to add to this group. There's some familiarity in that he played with Raiders for [defensive coordinator] Gus Bradley. Having him here I know he's excited. He's another one of those guys who's straight business in the way he approaches the game. Just adding him and Al [Woods] to the D-line group is going to be awesome."
Saleh and Bradley also overlapped during their time working for Pete Carroll in Seattle before Bradley was hired to be the Jaguars' head coach and Saleh joined Jacksonville as a linebackers coach the following season. For now, Saleh said it's been hard to gauge much of anything because his players are "running around in pajamas" until the pads come on for practice starting on Tuesday.
Jefferson joins a group on the defensive line that was key to the team's emergence last season as the No. 4 overall unit in the entire NFL. He joins a contingent that includes Williams, John Franklin-Myers, Carl Lawson, Jermaine Johnson, rookie Will McDonald, Thomas, Micheal Clemons, Bryce Huff, Woods, and others.
"Man, you can see the D-line got some dogs out there," Jefferson said. "I'm familiar with a few players, it's a matter of comfortability. From afar I watched that group get after it [last season]. Players like me -- hungry, with knowledge of the game. They're already great, I'm just excited to get out there with a great group of guys."
Jefferson said of Quinnen Williams: "He's a great dude. I'm enjoying playing with him. I've been in the league eight years, but I still like to pick brains. He's knowledgeable and a great person. A true pro, I'm excited to be in the same room with him."
Jefferson sees himself as a complement to Williams on the interior of the line, but said he feels comfortable any time he can get after the QB or stuff a running play.
"So far they're letting me do what I do ... play interior," he said. "I could play anywhere, but I don't think I need to go out there. We have some great guys, it's going to be scary out there. Coming in waves, mix and match. We're going to be a problem for a lot of people."
Jefferson is one of few new pieces to an already stout defensive line that runs a 10-man rotation on gameday to exert maximum pressure on opposing quarterbacks.
"We're as deep as anybody in football," Saleh said about the line. "It's a cool group because of the men in the room. You know how big character is in this building and every single one of them starting with Q [Williams], they're just made of the right stuff. It's a fun group to be around and once we get rolling we can unleash the pass run."
Saleh added: "What I'm getting at with this group is that I think they genuinely love to see each other have success."
See the Jets on the field for the second time at 2023 Jets Training Camp.