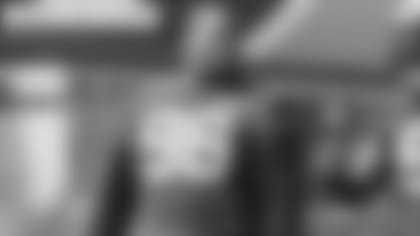 After a busy offseason of free agent visits, DT Al Woods decided he was ultimately looking for a change of scenery and landed with the Jets because he loved the aggressive nature of the defense.
"This defense is more of a hit you in the face let's get nasty, let's get grimy defense," Woods said. "I like that. Other defenses I have been on are more about catching and making sure the linebacker is right, which is cool too. But I like this style better.
"Over here, we are getting off the ball and knocking players back and then we are running to the ball. So, there is a big difference in the style of play."
The Jets are Woods' sixth team as he enters his 13th professional season. His recent three-year stint (2019-'22) in Seattle was the most productive stretch of his career. In 2021, Woods set career highs in tackles (50), QB hits (5) and had 1.5 sacks and 3 pass defenses.
Last season in the Pacific Northwest, Woods lined up in a 3-4 defense and had the responsibility of "taking up space." With New York, he is excited for the opportunity to pin his ears back, rush the opposing signal-caller and pursue the ball.
"I was in a 3-4 for a long time and I was tired of catching and reading," Woods said. "I would stand on the sideline and watch other teams play and think, 'I want to play like that.' That stuff looked fun."
Woods will play alongside a familiar face in fellow 2023 offseason free agent acquisition DL Quinton Jefferson. The duo played together in Seattle last season and combined for 7.5 sacks and 16 QB hits.
During the free agency process, Woods and Jefferson took visits to some of the same teams and stayed connected. The duo both ended up with the Jets and live in the same apartment complex.
"That is my big brother," Jefferson said. "We visited a lot of the same places and having him here is just a blessing because that increases my comfort. He and I are together all day, every day. Our families are close-knit, and we are even living in the same apartment complex right now. So, that is my big brother."
"That is like my little bro man," Woods added. "We live in the same apartment complex and our wives are best friends. … We were talking throughout the whole free agency process."
During practice Thursday, Woods, who turned 36 in March, nearly chased down RB Michael Carter in the open field while showing off impressive speed. Then Saturday, he broke into the backfield for a tackle for loss of RB Zonovan Knight.
Over the spring, Woods said he took time to reflect on his physical condition and concluded that he still has plenty more in the tank. Early in camp, he has proved that to be true.
"I am probably going to play this game until I am ready to stop," Woods said. "I don't have a number or a limit on what I got going on, it is just playing every year and taking it one year at a time."
See the best photos from the first open practice of 2023 Jets Training Camp.