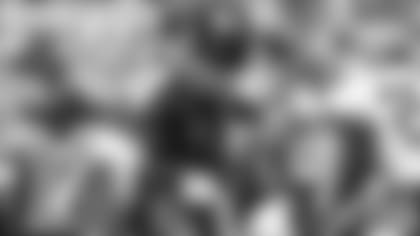 As the Jets offense continues to progress in training camp, WR Corey Davis believes the Green & White took a step in the right direction in the joint practice with the Carolina Panthers on Wednesday at Wofford College in Spartanburg, SC.
"It was good to come out here and get in front of some new bodies," Davis said. "And you know, just see where we're at, but definitely got a lot to clean up."
The Jets made multiple additions over the offseason but potentially no two were bigger than hiring offensive coordinator Nathaniel Hackett and trading for QB Aaron Rodgers.
Dating to 2019, Rodgers played three seasons under Hackett when he was the OC in Green Bay. And over that span, Rodgers threw for 12,416 yards, 111 touchdowns and 13 interceptions while completing 67.1% of his passes. The Packers went 39-9 and Rodgers won back-to-back MVPs, in 2020 and 2021.
Against the Panthers in practice, Rodgers connected on a pair of deep passes to WR Allen Lazard and TE C.J. Uzomah and the offense went three-and-out during a two-minute period. It was a mixed bag, but Davis said that he was encouraged by the Jets' offense, which has spent the spring and summer learning a new system.
"We're obviously still growing," Davis said. "And I got a long way to go to catch up to [Rodgers]. But he's been patient with us and working with us and pushing us up on every little thing, which is really good and what we need, especially me, so it's been really good and we're definitely getting there."
Health has been an important factor in getting in sync. Veteran tackle Duane Brown (rotator cuff surgery) and RB Breece Hall (torn ACL) are working their way back after off-season operations and have yet to practice. WR Garrett Wilson made the trip to South Carolina and practiced but did not participate in the scrimmage periods due to a low ankle sprain he sustained on July 26.
Davis said it is valuable for the Jets' injured players to get reps with Rodgers.
"I think we'll get there," Davis said. "Obviously, we got some guys who were working through some things, and they'll be back with us when they get back with us. Some of those guys are definitely going to help us win some games. So, I don't think it's necessarily overrated [to get consistent practice reps in with Rodgers], but we've got to make do with what we have right now."
Rodgers has helped Davis get comfortable in the scheme, providing advice and adjustments in the huddle and pre-snap.
"His presence," Davis said. "To how he says the plays, to how he goes about his work, his work ethic, his approach. You know, it's everything. he's real chill and real confident, but it's urgent at the same time, which is what we need."
See photos of the Jets on the field in Spartanburg, S.C. for joint practice with the Carolina Panthers.