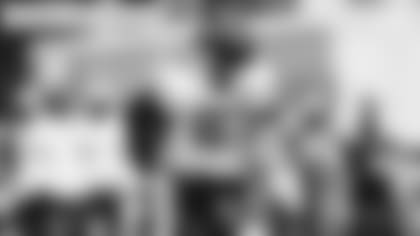 Back at camp following a quad injury, Jets TE C.J. Uzomah is not trying to hide how much fun he is having playing with QB Aaron Rodgers. Uzomah took to the podium on Sunday grinning from ear to ear and laughed when asked about the four-time MVP.
"You have a future Hall of Famer back there," Uzomah said. "He's making adjustments, calling plays, dissecting defenses in the meeting room, telling you how he wants certain things done in certain ways. I am learning so much more about football this year than I ever have in my previous years of football combined. It is a lot of fun."
Uzomah missed the start of camp after sustaining an injury in the final practice of OTAs. He was put on the physically unable to perform list on July 19 and returned to practice on Thursday after passing a physical. Since he returned, he has quickly ramped up his playing time.
"It feels good to back out there with the boys," Uzomah said. "Anytime I am in the huddle with the guys it is great. Two days ago, it was a little bit of an adjustment period for me, so I got very minimal play time, which kind of sucked. But it felt great to have a full practice under my belt today."
Uzomah was an active participant on Sunday catching a dump-off from Rodgers that he turned into a short gain 5-yard gain. Later, on a third down during a move the ball period, Rodgers took a short drop and threw a strike to WR Mecole Hardman, who was barely off the line of scrimmage. Hardman took the pass 20 yards for a first down.
Uzomah has loved the flexibility Rodgers has bought to the offense and it has helped him learn how to attack different coverages.
"It makes it fun," Uzomah said when asked about Rodgers' ability to adlib. "It is nice because I know I am not running just a line a cutting in. Instead, I am finding open space and I know the quarterback wants us there and he is going to feed us the ball."
Last season Uzomah played 15 games and had 21 receptions for 232 yards and 2 touchdowns. He explained that Rodgers' ability to locate receivers in space has allowed him to vary the depths of the routes he runs.
"Within the confinements of the play and the drop and the coverage, there is a little more freedom," Uzomah said. "It is not running a straight line, it is if he has a seven-step drop knowing the area I need to be in, and he will find us in that area. [Rodgers] wants us to look at the game through his eyes and his lens. See the defense, see the rotation. … It is a lot. I am gonna be honest, it is a lot. But it is very fun for me."
Additionally, Uzomah caught a no-look pass from Rodgers on Thursday. Running in the flat, Rodgers looked down the center of the field before firing to a wide-open Uzomah with green grass ahead.
"It is messing with the defense and as long as we are on the same page, we're good," Uzomah said. "But those throws creep up on you a little bit. It is just a reminder that he is going to do everything he can to mess up the defense, so you better be on it."
See the top images from Sunday's open practice at Jets Training Camp practice on a steamy day.