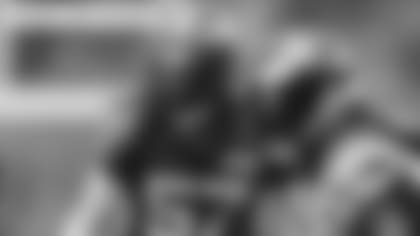 When the Jets' quarterback on defense goes against the Jets' quarterback on offense ... that's when the fun really begins.
"So far, it's been my favorite thing," middle linebacker/QB on defense C.J. Mosley said after the early days of training camp matching wits with Aaron Rodgers. "He's going through his checkoffs and I'm going through mine. It's been a lot of fun and he helps me sharpen my game."
In 33 games over the past two seasons, Mosley, a five-time selection to the Pro Bowl, has amassed 326 tackles to lead the defense. He is the head, heart and soul of a group that has made impressive strides since he signed in free agency from Baltimore.
"I feel pretty good," Mosley, 31, said. "I always want to come into camp in shape and feeling good. Seventeen games ... I'd be really shocked if you come out completely healthy. There's always some bruises and nicks. It's about maintaining your body, as you get older it reacts to different things, changes. It's a sacrifice you have to make ... get up earlier and stay later after work. It's all working in the end."
Mosley said he came into training camp at 223 pounds, though he usually begins the season at a playing weight of 225 to 230 pounds.
Along with his teammates, younger and older, Mosley said he's well aware of the expectations that have been heaped on the Green & White with the arrival of Rodgers, and a collection of other players either in free agency (Allen Lazard, Mecole Hardman, Randall Cobb and others) or the draft (Will McDonald this year; Breece Hall, Jermaine Johnson, Max Mitchell last year).
"What else would we want than to be held to a high standard," he said. "You want to reach for something. Some people would say it's unreachable. But that's what we play the game for, to get to that top spot and hold up that trophy. If that's not your goal, you're wasting your time."
He added: "Everybody feels like we're taking steps, piece by piece. It might not have been as fast as people wanted it, but it's right on time."
For his part, Rodgers has been doing his thing during training camp teasing his teammates on defense with his ability to alter his cadence with different inflections and keep them off balance. Through all that, the four-time NFL MVP has been clear about has been enjoying toying and teaching, especially with Mosley peering at him from across the line of scrimmage.
"He's quiet, so I got a strategy for him, a nice friendship, but he is a quiet guy," Rodgers said about Mosley. "Quincy [Williams] is a little bit more vocal. C.J. and I will talk from time to time in the locker room, but I really have to initiate that conversation right now, but he is a great dude. I love his leadership style, leading by example. I've been around a lot of great ones over the years. Julius Peppers was one of the best, where JP didn't say a whole lot, but when he did everybody listened. That's the effect that C.J. has. He is a very quiet leader, leads by example, but when he starts talking, everybody is listening."
See the top images from Thursday's open practice at Jets Training Camp practice on a steamy day.