Rex Ryan made it clear today after practice that there is "No timetable on designating a starting quarterback." Fortunately for the offensive line, no timetable is no problem for right tackle Breno Giacomini, who feels confident in his ability to block for both the right-handed Geno Smith as well as left-handed Michel Vick.
"As an offensive lineman it shouldn't matter who's back there," Giacomini said after Friday's second practice of training camp at SUNY Cortland. "It doesn't matter who has the ball in their hands. It doesn't matter which quarterback has the ball or who's running the ball. Our job is to protect whoever it is. So does it matter who's back there? I don't think so."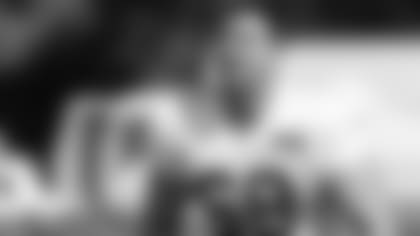 Giacomini, who was acquired as an unrestricted free agent this year for the Jets, started 37 games at right tackle for the Seattle Seahawks over the past 2½ seasons, the most recent of those games being SuperBowl XLVIII at Met Life Stadium. He feels confident in Geno's ability on the field this year, calling the second-year quarterback "a good leader."
"I had a young guy in Russell [Wilson] and it's very similar," Giacomini said. "I know how he was last year because I know how rookie quarterbacks are. But it doesn't seem like he's a second-year quarterback right now. I'm two days in and it just seems like he knows what he's doing. He seems like a seasoned vet."
In talking with Breno after the team's second day of training camp, he exuded the relaxed self-assurance that one would expect from a seven-year NFL veteran, but there is also an undeniable eagerness and excitability to him.
"I feel like a rookie in a sense, being a first-year guy," he said. "I came in and treated myself as a rookie and just listened to the guys in the O-line room — we've got some great leaders there — and just kept going. I'm taking it step by step, day by day."
And for a 6'7", 318-pounder, the man can move, displaying his athleticism during team drills and exhibiting a coachability that has really stood out. Giacomini joins D'Brickashaw Ferguson, Nick Mangold, Willie Colon and Brian Winters, all of whom were starters for the Jets last year. And although Colon (knee) has not yet been cleared to practice, Giacomini expects to have no trouble when the 315-pound guard returns.
"With him knowing exactly what he's doing, with Nick in there and us just communicating, we'll be fine," he said. "It just takes a few weeks and it helps when I know the playbook a lot more and I know what he's doing and I know what the tight ends are doing and I know what I'm doing. I don't expect a lot of friction there. It will go smoothly."
In addition to what Giacomini is sure to bring to the offensive line this year, he is also deeply invested in the community, using his NFL power to expand the game that he loves around the world through American Football Without Barriers. This past year AFWB took a troup of 17 NFL players to Brazil, where they held camp, teaching more than 400 children in orphanages about football.
"We also gave away 178 pairs of sneakers," he said. "But we didn't just give them away. We washed the kids' feet, we put them in a new pair of shoes. It was awesome."
"This team has a great defense, good special teams. The offense seems like we can really be explosive with the pieces we've got in place," he said. "It's an exciting time. The team went 8-8 last year, but I'm sure a few games got away. They could just as easily have gone 10-6, so if we can stack up three or four more wins, we'll see what happens."
Giacomini said he feels hopeful for the playoffs. "That's our goal. Our goal is to win the division, but we can't just reach that goal without putting some work every day here in training camp. So that's where we have to get our start. And it starts with pads tomorrow."
---