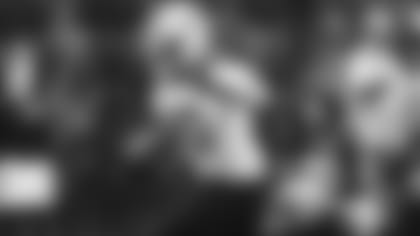 The Jets' running backs room is shaping up as a team strength heading into training camp. Smooth veteran Bilal Powell and promising second-year man Elijah McGuire, we know about. Thomas Rawls did exceptional work as a Seattle rookie in 2015. Rookie Trent Cannon could emerge this summer as if, well, shot from a cannon.
Last but certainly not least, there is Isaiah Crowell.
"Yeah, I love the room," Crowell said at the end of the mandatory minicamp. "All of us, we get along, we feed off of each other. We're the same because we're all chasing something. So I love the room. I feel like it's good to have competition because we're only going to make each other better."
Crowell comes to the Jets from Cleveland, where it might've been easy to overlook his talents. But while the Browns were going 11-53 from 2014-17, he was focused on becoming a professional. He and Frank Gore are the only backs in the NFL to play in all 64 games the past four seasons. His 3,118 rushing yards was 11th among the 50 players with at least 1,000 yards in those years, even though he averaged just 11.5 carries/game. His 4.23 yards/carry, 96 receptions and six fumbles are all strong metrics.
"The Crow" has told reporters he'd like to be the Jets' bellcow. "I want to be a big-time player here," he has said. "I want to prove it to my coaches and teammates that I've got what it takes to be an every-down back and help my team win games."
That's just how RBs coach Stump Mitchell sees Crowell. It's also how he sees Powell. And he compared McGuire's skills to those of a young LaDainian Tomlinson. If all that's true, that's one crowded backfield.
"Isaiah and Bilal, those guys are every-down backs, and I'm sure they want to be an every-down back," Mitchell said. "But we're a football team that has one goal in mind and that's to win. We have backs we can keep fresh.
"The Jets and myself, we're one of the luckiest teams in the NFL because of the skillsets of all the guys we have."
It's not a hard sell for Crowell, who after all, before his Cleveland years played his college ball for Georgia for a year and Alabama State for two years to the tune of a 25-10 record. I asked him if he had any personal goals he cared to share for the regular season looming not far down the road, and he didn't hesitate.
"Not really," he said. "I just really have a team goal. I want to win. That's the main thing. We want to work hard, be able to win games, and give ourselves a good chance to win."