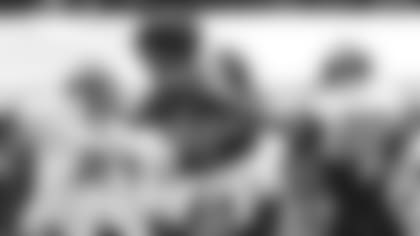 Rookie TE Jeremy Ruckert returned to practice this past Friday after a foot injury he sustained at the Senior Bowl in February. Ruckert has worked on getting up to speed by studying the playbook and working with his teammates, but head coach Robert Saleh knows he still has a lot to learn, knowledge that can only be picked up on the field.
"He is swimming a little bit," Saleh said. "Obviously there is a lot of information coming in. He missed all of OTAs and half of training camp. He is getting into it in the thick of it, in the middle of it."
The Jets selected Ruckert in the third round (101st overall) of April's NFL Draft and his injury kept him on the non-football injury list until last Wednesday. While sidelined, Ruckert focused his energy on position meetings and the playbook.
"It was pretty rough watching, but I have tried to make the most out it, try to learn as much as I could before I got out there and just watch the group," Ruckert said. "We got a great group so try and replicate what they are doing."
Now back on the field, he has peppered veterans C.J. Uzomah and Tyler Conklin with questions.
"It is just little things, asking what were you thinking here? What are you thinking there? Why did you do that? How do you set them up this way?" Ruckert said. "I can't really think of a specific example. But I am just going out there, making a mistake and then going up the field and Conk [Tyler Conklin] and C.J. are coming up to me just explaining what I did wrong and what they would have done."
Ruckert has spent most of periods blocking, but on Tuesday he leaked out for a catch across the middle that resulted in a first down, his first reception of camp. He did not think much of it, however, because he has focused on returning to form while learning a new system.
"I am just trying to do what I've been doing, I not really making too much of it," he said. "Once you start thinking you can get all over the place and I learned that the hard way… I just try to go back to your training and go back to what you do best, and just not thinking and just playing."
As a senior at Ohio State, Ruckert received just 42 targets. But he had sticky hands in the red zone from 2018-21 with 12 of his 54 career catches going for touchdowns. He caught at least 3 touchdown passes in each of the last three seasons, one of six Power Five tight ends to do so between 2019-21.
In Ruckert's first four practices, Saleh has seen his physical talents. And he has allowed Ruckert time to transfer his knowledge of the scheme to the field keeping him with the third team.
"Love his movement, love his athleticism, he is everything we thought he was going to be," Saleh. "Now it is just a matter of him catching up to the playbook so he can play without thought."
Ruckert told reporters on Tuesday that he has gotten the playbook "down really well." But he embraced Saleh's advice to be patient.
"I am kind of getting the playbook down really well," Ruckert said. "I am figuring it out and not really thinking much about that anymore. … But I got to just get back used to it. Anytime you put the pads back on it is an adjustment period."
See the Green & White on the field in full pads on a scorching hot day during week three at training camp.