FLAG FOOTBALL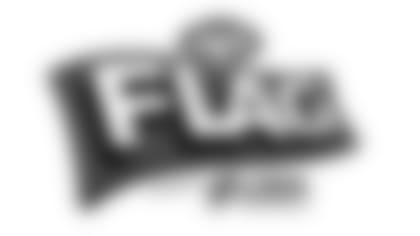 The Jets fund and create thousands of Flag Football opportunities for children ages 5-18 to enjoy America's favorite sport. Players benefit by being physically active through non-contact, continuous action while learning the fundamentals of football, lessons in teamwork and sportsmanship.
In 2016, the New York Jets and USA Football announced a new NFL FLAG powered by USA Football league with the New York City Police Athletic League (PAL). Through a $40,000 donation from the Jets Foundation, 1,200 New York City youth have the opportunity to play flag football at no cost. All participants are given a free Jets NFL FLAG jersey and top teams in each division have their entry fees to the New York City area's Regional NFL Flag tournament covered by the Jets.
Each year the Jets provide $50,000 to support the Public Schools Athletic League (PSAL) Girls Varsity Flag Football League. Created in 2011 by the PSAL and Jets, the league has nearly doubled from 31 to now almost 60 schools participating. USA Football was also instrumental in helping to get the league off the ground with flag belts and footballs for each program.
Since 2007, the Jets have provided annual funding for the expansion of CHAMPS Middle School Flag Football League to more than more than 3,700 students at 111 programs throughout the New York City public school system. The CHAMPS Middle School Sports and Fitness League is an initiative of the New York City Department of Education that promotes student physical activity during the critical years of middle school. The name CHAMPS derives from the initials of the five characteristics that describe our participants: Cooperative, Healthy, Active, Motivated and Positive Students. For more information go to schools.nyc.gov.