New York Jets | United States Virgin Islanfs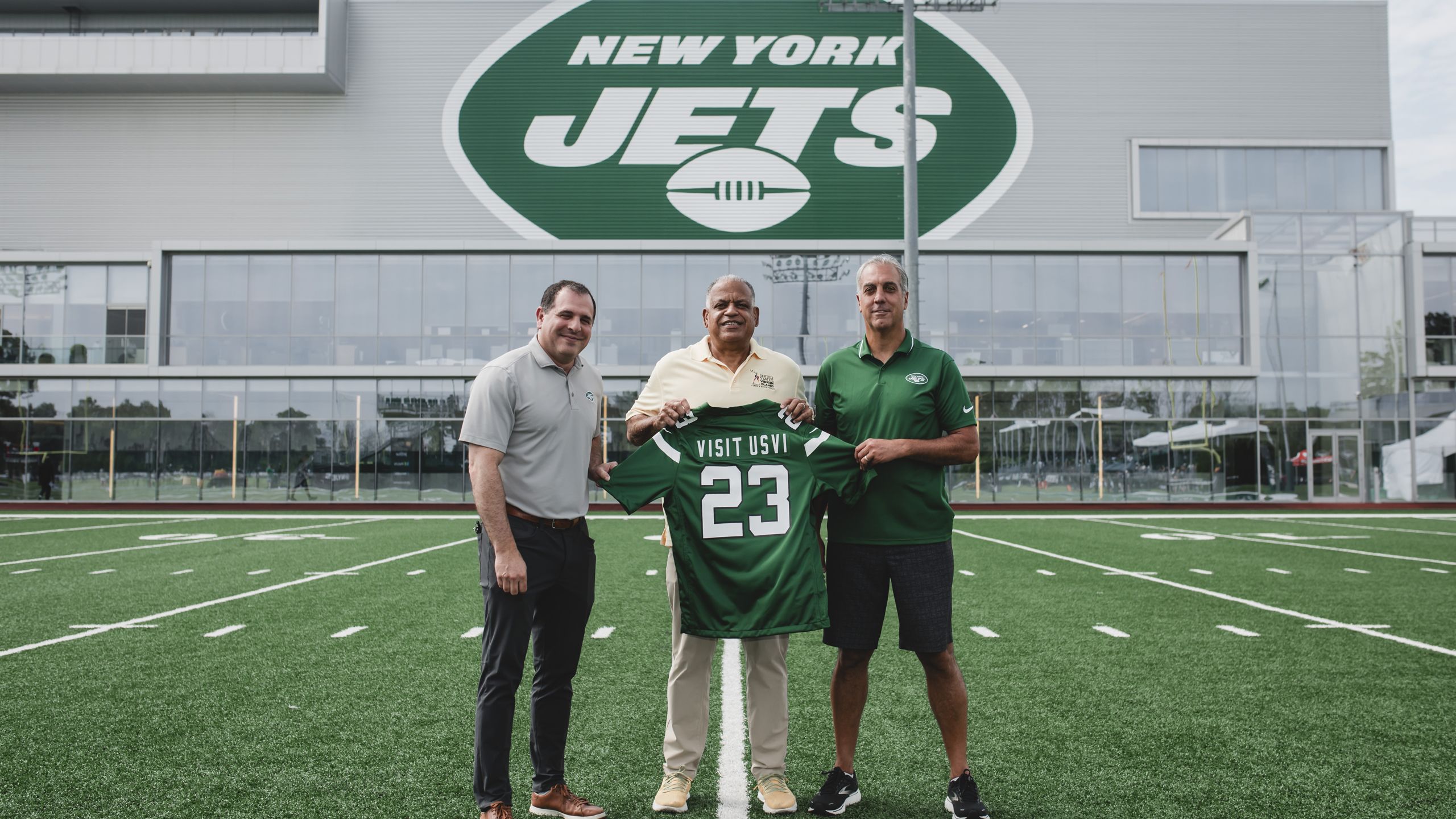 U.S. Virgin Islands and Jets Announce Multi-Year Partnership
U.S. VIRGIN ISLANDS (August 10, 2023) – The U.S. Virgin Islands (USVI) Department of Tourism and the New York Jets announce a new multi-year partnership. Commencing the 2023 season, the USVI will be the Official Caribbean Destination partner for the team, collaborating through various fan-facing channels and events to promote year-round visitation to America's Caribbean.
"There's no better time than now to kick off this partnership between the U.S. Virgin Islands and the New York Jets," said Commissioner Joseph Boschulte, USVI Department of Tourism. "The New York Metropolitan area is one of our main feeder markets, and we could not pass on the opportunity to collaborate with this longstanding franchise to showcase the vibrancy and culture of our beloved islands."
Throughout the season, USVI will collaborate with the Jets organization to curate and integrate unique elements of Caribbean culture into gameday experiences for fans, sweepstakes, and giveaways.
"We could not be more thrilled to be partnering with our friends from the U.S. Virgin Island this season. We see great opportunity to unite our audiences and engage them in not only football but the vibrant culture of America's Caribbean islands," said Jeff Fernandez, Vice President, Business Development + Ventures. "Having this partnership continues our mission of impacting lives beyond New York and sharing the game of football across the globe."
The New York Jets and USVI celebrated the partnership launch in late July with a meeting at the franchise's Florham Park headquarters, where Commissioner Boschulte met with team leadership and former players during pre-season practice.
For more information about the U.S. Virgin Islands, please visit www.visitusvi.com.
About the U.S. Virgin Islands
About 40 miles east of Puerto Rico, the U.S. Virgin Islands comprise a United States territory located in the northeastern Caribbean Sea. The three islands are St. Croix, St. John, and St. Thomas, where the capital of Charlotte Amalie is located. Perfect for leisure or business travel, the U.S. Virgin Islands features breathtaking, world-renowned beaches, an international marine industry, European architecture, and a burgeoning restaurant industry. No passports are required from U.S. citizens traveling from the U.S. mainland or Puerto Rico. Entry requirements for non-U.S. citizens are equivalent to entering the United States from any international country. Upon departure, a passport is required for non-U.S. citizens. For more information about the United States Virgin Islands, go to www.VisitUSVI.com, follow us on Instagram (@visitusvi) and Twitter (@usvitourism), and become a fan on Facebook (www.facebook.com/VisitUSVI).