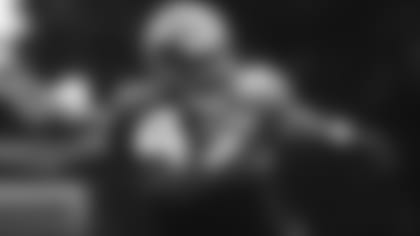 Throughout the offseason, NewYorkJets.com reporters Eric Allen, Ethan Greenberg and Randy Lange will each give their predictions to a series of questions regarding this year's Jets.
Today's question: Which Jets player is flying under the radar?
EA: Bryce Huff. The Jets defensive line has been good thus far and that's without Quinnen Williams, who's expected back for Jets-Packers in Green Bay on Aug. 21. Carl Lawson could take the next step as a finisher because Williams has star potential on the inside. John Franklin-Myers, who injured his shoulder during Thursday's workout, has loads of talent opposite Lawson. Sheldon Rankins and Folorunso Fatukasi also provide different skill sets on the inside and Nathan Shepherd gives the Green & White great strength plus a non-stop motor at DT. The guy up there who might be overlooked is Huff. The 6-3, 255-pounder, who went undrafted out of Memphis and who had 2 sacks as a rookie, will not only provide insurance behind Lawson, but he could push to be a valuable asset in sub packages as the Jets shift JFM down inside. Huff, who had 39.5 TFL and 18 sacks at Memphis, has consistently been flying around the Jets quarterbacks this week. He is an explosive player who has caught the eye of DC Jeff Ublrich: "He's one of those rare guys that you look at him and he's a little undersized, maybe not fast enough, whatever the case may be, doesn't mark all the boxes. But just consistently comes out here and has production. So, I'm absolutely pulling for this guy. I hope he has an amazing preseason. Hope he has an opportunity to be part of this team and really be part of the rotation. I know this, if for whatever the reason, he weren't here, I would fight my butt off to find him somewhere to play in this league because I think he's an NFL player."
EG:There are a lot of different directions you could go, but I think the RBs should receive some love. Each of the RBs on the roster has flashed at times throughout the early part of camp. Tevin Coleman, the elder statesman of the group, showed his familiarity with the system and his ability to plant his foot in the ground and turn upfield. Ty Johnson showed off the wheels, particularly around the corner in Thursday's practice. He's also showed ability out of the backfield in terms of receiving. For La'Mical Perine it seems like the game has slowed down for him a bit and is able to be more decisive with his runs, which has resulted in showing his downfield running style and power. He ran over Zane Lewis in Thursday's practice. Rookie Michael Carter just seems like he understands the game extremely well for someone with no NFL game experience. His vision is extremely impressive. Austin Walter, who looks like a bowling ball, showed off his speed and Josh Adams has popped a few long ones too, specifically on the outside. That may be a roundabout answer, but with all the early success of Elijah Moore, I think the RBs have flown under the radar. With their early success as a group, I think the O-line should receive some love, too. Honorable mentions include CB Justin Hardee, who may have the most pass defenses among the CBs and D.J. Montgomery, who's made a number of impressive receptions.
RL:With a lot of recent buzz about the Jets' wide receivers and running backs, my thought is that TE Chris Herndon has been the guy on offense who's been under the radar. On Tuesday, the big-catch training camp tweets were flying: He had clutch catches/"touchdown" grabs from Zach Wilson/Mike White/James Morgan. Then Thursday there were more highlight grabs. I don't subscribe to some popular descriptions of Herndon's 2020 being "awful" or "disastrous." But wildly inconsistent? Yeah, that works. He went from 13 catches in the first 6 games to 3 in the next 6 to 15 catches for 154 yards and 2 TDs in the final 4 games. HC Robert Saleh says Herndon "has shown flashes" and Herndon says, "I know I'm going on the right path." Summer quotes and camp catches are a dime a dozen so Herndon has miles to go to show that he's truly a new and improved fourth-year tight end. But lately he keeps breaking through the surface and showing his teeth in the Saleh/Mike LaFleur offense. Hopefully his engagement lasts four months longer than the limited run of "Shark Week."