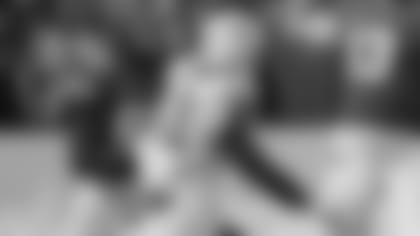 With the NFL Draft officially one week away, the cloud of mystery surrounding the Jets at No. 3 overall grows larger. The Jets are in position to select a blue-chip prospect, but many times general manager Mike Maccagnan has said the third pick is for sale as the Green & White have six selections total and none in the second round.
More so than not, mock drafts project the Jets selecting a defensive player at No. 3, namely Alabama defensive tackle Quinnen Williams or Kentucky edge Josh Allen, who both have connections to current Jets.
"I actually have already seen Quinnen Williams during training," said defensive lineman Leonard Williams, who met Quinnen at Mamba Sports Academy in California. "We haven't been working out in the same group or anything like that, he's been working out with the Combine guys. I've been seeing him and he seems like a good guy. I'm excited about whoever we bring."
Leonard labeled the soon-to-be first-round pick as "a freak" and "a beast," which is expected of a potential top-3 pick. However, Williams also interestingly described the 6'3", 303-pounder as "childlike but in a good way."
"Although he's really great, he doesn't feel like he knows everything," he explained. "It was really funny to me to meet him because he was kind of like fanning over me. He was like, 'Whatsup man' trying to take a picture with me and stuff. I thought it was so funny because I remember being in that position."
It's possible Quinnen may be off the board by the time the Jets are on the clock as some experts believe he's the top prospect in the draft. The redshirt junior led the Crimson Tide in 2018 with 18.5 tackles for loss in addition to seven sacks in his lone season as a starter. The All-American also showcased his mobility at the Combine and ran his 40-yard dash in 4.83 seconds.
In addition to Williams, Allen is another popular name at No. 3 as he ranked second in the country with 17 sacks. He, too, has an advocate inside the walls of One Jets Drive in linebacker Avery Williamson, who's known Allen since 2014. The two also worked out together during the offseason when Williamson went back to campus to finish his degree.
"He's a really good player. I'm excited to see where he lands," he said. "I've talked to Gregg [Williams] about him and he knows I like him. We'll see what's going to happen, man. They ultimately control who they pick, but I wanted to throw in what I thought about him. He's a good dude, a hard worker. He's the type of guy that's not going to be complacent and he's not going to settle for mediocracy.
"That's the good thing about Josh. I've been around him for a long time and I know what type of guy he is. He's a very humble kid and he wants to be great. I'm super excited to see where he lands and hopefully it's with us."