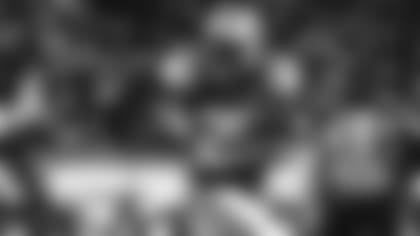 Eli McGuire wants to help the Jets win their final two games and close the year on a high note. But running backs coach Stump Mitchell also reminded McGuire this week of an individual goal he should be aspiring to attain before the regular season comes to a close.
"Coach Stump and I were talking and he said last year I finished with 315 yards. I think right now I'm right at 200 and he wants me to top my rushing yards from last year," McGuire said. "With two games left, I have to make it happen. These last two games are real big for me in order to reach that goal alone. It would be great if I get it done."
With both Bilal Powell and Isaiah Crowell on injured reserve, McGuire is the Green & White's top option in the backfield. He has had career-high workloads the past two weeks, toting the rock 17 times against the Bills and 18 times against the Texans in Weeks 14 and 15.
"It's something I have to take on. I feel like I'm the veteran in the room now," said the 24-year-old McGuire, a sixth-round pick out of Louisiana-Lafayette in the 2017 draft. "It's just something I have to take on and I won't back down from it. I just have to continue being consistent every day and come to work every game day and show the coaches I'm built for it."
Over the course of 16 games his rookie season, McGuire gained 315 yards on 88 carries (3.3 Yds/Att). In six games his sophomore pro campaign, McGuire has 200 yards on 60 carries (3.6 Yds/Att).
Last week against the Texans, McGuire picked up a tough 42 ground yards on 18 rushes. He also chipped in with three receptions for 29 yards. His understudy, rookie back Trenton Cannon, added 13 yards on seven rushes and 24 yards on three receptions.
"I thought they ran tough," said offensive coordinator Jeremy Bates. "I think we rushed right around 30 attempts (31-90-1TD) and they didn't flinch. They wanted it more. There were some tough yards in the game and I thought they handled it like pros. They did a good job in protections and the routes. They had a solid day."
After scoring the game-winning touchdown against the Bills with a patient fourth-and-1 run, McGuire made it consecutive games with a score when he got a lot of help from his friends. His improbable 2-yard effort against the Texans briefly gave the Jets a fourth-quarter advantage Saturday evening.
"I think the Texans linebackers did a great job of filling the hole because I didn't have anywhere to go at that moment. I just felt a bunch of people crowded around me and at first I was going backwards," he said. "Then secondly, I just started going forward. I thought the ref was going to blow it did, but he didn't. My O-line did a great job of getting behind me, just that will, that passion of getting into the end zone and they did a great job of pushing me."
After an impressive spring, McGuire injured his foot on the first day of training camp and started the year on injured reserve. But he rehabbed diligently and is taking advantage of his late opportunities. His touchdown against Houston was a valuable lesson in drive and he is excited to put those feet in motion once again Sunday when the Jets battle the Packers at MetLife Stadium.
"You have to keep your feet moving. That's the main thing as a running back," he said. "My coach in college told me that too many times back stop their feet when they meet contact and they get hurt. When you keep your feet moving, good things will happen. All the running backs in the league who keep their feet moving and their pads low, they fall forward or break tackles. It's important to keep your feet moving on contact."