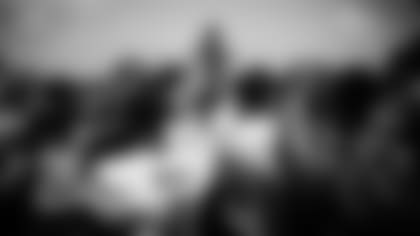 Throughout the offseason, NewYorkJets.com reporters Eric Allen, Ethan Greenberg and Randy Lange will each give their predictions to a series of questions regarding this year's Jets.
Today's question: What did we learn from the first week of Jets training camp?
EA: The buzz is back. You could feel the energy out there on Saturday as fans returned to One Jets Drive as the NFL celebrated "Back Together Saturday" throughout the league. And while some of that vibe was a result of not having seen the Jets practice live in two years, I'd argue most of it is a belief that the Jets are at the start of something that could be promising. Head coach Robert Saleh is a patient teacher who knows his young group will experience ebbs and flows, but his delivery is never going to change. His message resonates throughout the building and onto the practice field. You don't hear Saleh at practice and for that matter you don't hear many of his assistant coaches either because they don't yell and scream to get their messages across. After an impressive spring, Zach Wilson had a big day Saturday and his talent is undeniable. The young man has moxie and Saleh views him as an "improviser" who can create when the script breaks down. You like the arm, the deliveries, the sheer athleticism and the intangibles. The two most important people on a football team are the head coach and the quarterback, and Saleh and Wilson are starting together. They both bring an element of electricity that should bode well for the Jets for a good amount of time. And finally, while many players including WR Elijah Moore have gotten off to hot starts, Carl Lawson has the potential to give the Green & White something dangerous at defensive end. The bonus this summer is the explosive Lawson and the mammoth Mekhi Becton only are going to make each other better for the fall.
EG:Ebbs and flows. Rookie QB Zach Wilson, the No. 2 overall pick, was unsigned for the first two practices before having an up-and-down first practice on Friday. On Saturday Wilson and the offense caught fire while the defense continued to make plays. With such a young team, head coach Robert Saleh said that there will be hair-pulling days with the young players and some "where they look like Pro Bowlers." In terms of what we've seen without pads, the tempo has been good at practice and while there seem to be clear starters and backups, there's still a solid rotation being mixed in, particularly at WR and CB. Bryce Hall and Bless Austin have probably taken the most first-team reps at cornerback, but rookies Jason Pinnock; Brandin Echols, who had an interception in one of the first practices; and Isaiah Dunn continue to get reps. Rookie wideout Elijah Moore continues to impress. So has DE Carl Lawson although Saleh admitted the defensive linemen have the edge over the OL until the pads come on. There's still a lot of camp to play out, but it was an encouraging week with the natural roller-coaster ride of training camp.
RL: We've learned that for the duration of camp, Mekhi Becton vs. Carl Lawson is going to be a matchup that's worth the proverbial price of admission. Lawson was the premier Jets signing of this year's free-agency period, while Becton was the first-round pick who had a promising pro debut all last season. Lawson's the unusually compact edge rusher at 6-2 and 265, Becton is the 6-7, 350-something (he wouldn't say exactly where he's weighing in) man-mountain. All during this past week, the two traded successes in line and team drills. "He's got a lot of speed and power to him, his power spin is really tough," Becton said of Lawson. "It's helping me a whole lot. He's getting me better, I'm getting him better." Next week, the Jets put on full pads for the first time this summer. Will that change the balance of power from Week 1? "It's going to be the way it is now," Mekhi said. "I'm going to win some, he's going to win some." Eventually, the games will begin. And Becton has no doubt what August will mean for him come September: "When it's game time, I'm going to be ready for sure."