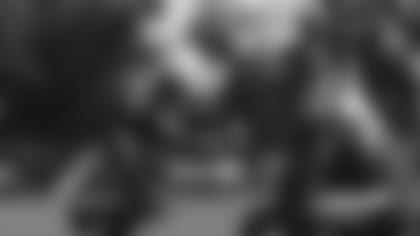 Jets first-round rookie Quinnen Williams is already on record as saying "Everything is slowing down" as he gets reps on the defensive line in his first NFL training camp.
Meanwhile, things are speeding up toward Thursday's pro game debut for Williams as the Jets prepare to "take to the road" to play the Giants at MetLife Stadium in their preseason opener.
What do teammates think of the progress being made the player who, despite his 6'3", 303-pound size, is being called affectionately by some "Big Baby"? A handful of players and one coach weighed in on where Williams is at with a little over a month to go before the regular season kicks off against the Bills.
DL Steve McLendon — "Quinnen's very dynamic, man. You've got to understand he's a young man that's very explosive, great hands. The sky's the limit for him. The only thing he has do is continue to listen to the coaches and continue to work and he's going to be a great player."
DL Henry Anderson — "He's a powerful dude for a guy his size. But he's also really quick, so I think that presents some opportunities for him when he's on the inside of the line going against guards and centers. A guy his size, you normally don't see with the quick twitch that he has."
G Kelechi Osemele — "He's showing a lot of good things. He's working moves. He's already a strong kid so he's playing to his strengths, he's got a good bull rush. But what I've seen from day one and now, he's working some counters and stuff like that and he's using his hands really well. So he's progressing."
Head coach Adam Gase — Gase was asked what it showed to him that Williams was looking comfortable with first-team reps as Leonard Williams and McLendon rested injuries the past few days.
"I think it shows our depth," the coach said. "Yesterday you kind of saw that where those guys, they were missing Leonard and Steve and all of a sudden, not much of a dropoff. That's a good sign for us. Anytime our younger guys can go with the ones and guys that haven't had as much experience in that area and they can play well and make it difficult for our one offense, it's a good sign for us as a team."
S Jamal Adams — "He's a guy that is obviously young right now, he's feeling out everything. But he has the mindset of a killer and I'm definitely excited to play with him. I know what he's going to bring to the table. I saw him when he was coming off the bench at Alabama and he was coming in and making plays. So I know what we've got is definitely what we're going to get and I'm definitely excited for him."
As for Q's nickname, Adams said it was a simple process: "I just call him Big Baby because he looks like a baby but he's in a big body and he's young."
On Thursday night, Quinnen and his Jets teammates young and old get to undergo their first growth spurt of summer against guys in different-colored jerseys. It should be entertaining to watch.