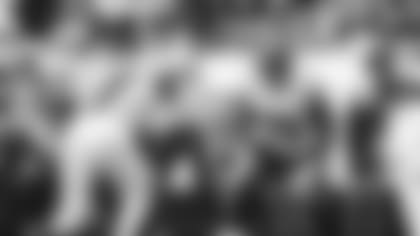 The Jets' comeback bid fell short Sunday in losing to the Jaguars. Let's check out the snap count and how playing time was distributed.
OFFENSE
For the second consecutive week, the Jets ran 61 plays on offense against Jacksonville, which was their fourth-highest total of the season. Eighteen players saw time in the offense for the Green and White, while five members of the unit were on field for every play (61 total): Sam Darnold, Alex Lewis, Brandon Shell, Brian Winters and Chuma Edoga. Just as they did last week against the Patriots, both Ryan Kalil (34/61, 56%) and Jonotthan Harrison (27/61, 44%) saw time at center.
Making his fourth start of the year, Sam Darnold completed 21-of-30 passes for 218 yards with a pair of touchdown strikes and three interceptions. Darnold and the offense began the afternoon with an impressive 12-play, 93-yard drive that ate up 7:48 of the clock and culminated with a 24-yard scoring strike to Ryan Griffin. The drive was the team's longest, in terms of yardage, on the season (one yard more than the one play, 92-yard drive against Dallas).
As he has all season long, Le'Veon Bell led the running backs in playing time (52/61, 85%). The longest-tenured Jet, Bilal Powell, saw action on 10 plays (16%), marking the second time in three weeks that Powell has reached double digits in snaps. Veteran Ty Montgomery was on the field for six plays (10%).   
The Jets had five wide receivers see action in the contest. For the third straight contest, Robby Anderson led the group in playing time with 55 snaps (90%), while pulling in four grabs for 43 yards. Jamison Crowder was next up with 44 plays (72%) and collected 24 yards on three catches. Demaryius Thomas (38/61, 62%) led all receivers with five catches and 63 yards. Vyncint Smith was on field for 25 of 61 plays (41%), the most playing time he's seen as a Jet. Josh Bellamy collected a pair of reps as well.
With Chris Herndon still sidelined by a hamstring injury, Ryan Griffin again led all tight ends in playing time (58/61, 95%) and had his most productive outing of the season. Griffin brought in four grabs for a team-leading 66 yards, including a pair of touchdowns and a two-point conversion catch. Daniel Brown (8 plays, 13%) and rookie Trevon Wesco (7 plays, 11%) contributed, as well. 
DEFENSE
The Jets defense was on field for 76 plays against the Jaguars, the fourth-highest total of the season. For the third consecutive week, 18 players saw action for Gregg Williams' group. And for the second straight week only one member of the unit played every snap, and once again that was safety Jamal Adams, who tied for the team lead in tackles with six. Two other members of the secondary were close behind, playing 74 of 76 snaps (97%): Darryl Roberts and Marcus Maye. Roberts registered five tackles, while Maye picked up a hit on quarterback Gardner Minshew.
Six defensive lineman were once again active on Sunday. A pair of rookies, Kyle Phillips and Quinnen Williams, along with veteran Leonard Williams paced the unit with 46 snaps (61%). Phillips was especially active, with five tackles, three for loss, and a half sack. Leonard Williams notched four tackles, while rookie Quinnen Williams picked up three tackles, a half sack and a hit on the quarterback. Foley Fatukasi continues to see his playing time increase. The second-year pro logged a season-best 41 snaps (54%) and picked up four tackles (two for loss). Steve McLendon (32 reps, 42%) and Jordan Willis (25 snaps, 33%) rounded out the playing time for the D-line, with Willis recording his first sack as a Jet.
The linebacker unit was hit hard by the injury bug against Jacksonville, missing C.J. Mosley, Neville Hewitt, and Albert McClellan. For the third straight game, rookie Blake Cashman led the unit in playing time by logging 74 plays (97%) and tied for the team lead in tackles with six. Next up was James Burgess, who was promoted from the practice squad on Saturday. Burgess played all but three snaps (96%) and picked up five tackles, including one for loss. Jordan Jenkins (44/76, 58%), Brandon Copeland (30/76, 39%), Tarell Basham (30 snaps, 39%) and Harvey Langi (3 plays, 4%) also saw action. Copeland collected five tackles, including one for loss.
The rest of the secondary featured Nate Hairston playing 61 snaps (80%) and recording five tackles. Hairston had received only five reps with the defense during the previous three games. Brian Poole (48 plays, 63%) had a productive day with five tackles, one for loss, and a quarterback hit. Trumaine Johnson's day was cut short due to an ankle injury, limiting him to just 13 plays (17%).
SPECIAL TEAMS
Rontez Miles led the way with 24 snaps, while Matthias Farley and Brandon Copeland were close behind with 23. Lachlan Edwards punted five times, averaging 49.2 yards per punt, including a 56-yarder and a pair pinned inside the Jacksonville 20-yard line.