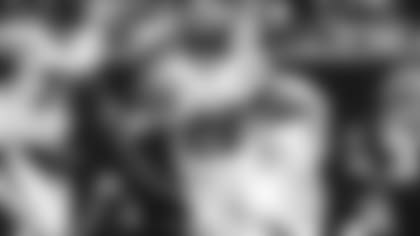 In his first 12 games as a Jet, RB Le'Veon Bell has not had the kinds of success he and fans are accustomed to, but his teammates believe he's due to break out.
"I think we just have to keep working it," QB Sam Darnold said. "He's obviously a great player and we all know he is. We know his potential. It's just about continuing to work out the fine details as a team, as an offense and make sure we execute the plays that are being called. That's our job and I feel like if we do that, more guys are going to have explosive games, including Le'Veon."
Bell isn't on pace to break any NFL records, though he's 8 yards shy of eclipsing 1,000 yards from scrimmage. He leads the team with 589 rushing yards and has 403 receiving yards on 55 receptions, two shy of Jamison Crowder's team-leading 57 catches. Bell has been a safety valve for Darnold in all three phases — run, pass, pass protection — but hasn't had a vintage Le'Veon Bell game in green and white. Bell's season highs: 70 rushing yards (Week 7 vs. NE), 61 receiving yards (Week 2 vs. CLE).
"Obviously we thought we'd be more successful on offense as a whole," Coach Adam Gase said. "I think when we lost our starting quarterback for three games, we were leaning heavily on Le'Veon to try to get us the majority of the yards. Teams were focusing on him and doing everything they could to take him away. We were still trying to go to him and find ways to get him the ball. I don't think that's really on him, that was kind of the situation we were in."
Gase added: "Not every game is the same, not every team plays you the same. Yesterday [Sunday at Cincinnati], I thought those guys did a good job on defense as far as taking away some of what we were trying to do in the run game. I thought they were getting tight on him in coverage. I did think there were some opportunities for us that we missed."
The Jets only gained 62 rushing yards on 17 carries (3.2 Yds/C) in their 22-6 loss to the Bengals. Bell had 10 carries for 32 yards against the NFL's worst rush defense (166.4 Yds/G). His best run of the day was nullified by a penalty, but it provided a glimpse of how Gase envisions his rushing attack.
"Le'Veon is doing everything he can to keep us in manageable situations," Gase said. "I thought that third-down run was a good example if we could get him to that second level, what it could look like. We just haven't done that enough. Hopefully these last games, we can pop him free and get him to that second level."
Jetcetera
In injury news, Darnold (knee/ribs) is fine. Gase said: "There was just a little concern with the way he was limping around at the end, we just wanted to make sure everything was alright. The ribs kind of came up as well."
Jamal Adams sprained his ankle against the Bengals and is undergoing an MRI and is week to week.
"I'm going to lean on him a lot to as far as how he feels," Gase said. "We want to make sure he's good to go before we put him back out there. I just want to make sure he's in the right place physically so he can go play his style of ball. He's the heart beat of our defense and we need him to be able to go full-throttle. He has to feel right in order for him to get back out there."
Cornerback Arthur Maulet strained his calf and also is week to week; nickel CB Brian Poole is in the concussion protocol; S Matthias Farley (ribs) and DL Steve McLendon, who is "banged up all over the place," won't practice on Wednesday.