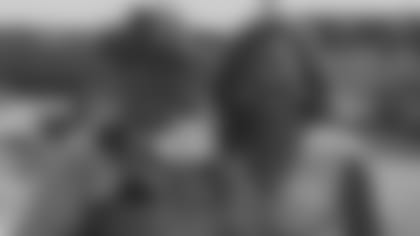 We're passing along some news today of a passing we hadn't heard about until recently. Harry Fisher, the longtime "guardian of the gate" at Weeb Ewbank Hall, died on Long Island on Christmas Eve at the age of 97.
Harry was the Hofstra University security guard who manned the booth at the entrance to the parking lot adjacent to the Jets' Hofstra training center. He had the look of a tough state trooper and a gravelly voice that would bellow out "HALT!" every once in a while to would-be trespassers. But he was more remembered for his jingling keys and for his daily offering of "Safe home" to Jets players and personnel as they left work for the day.
He was a beloved member of the Jets' extended family, so much so that before his retirement in 1997, they used to call his booth "Harry Fisher Hall."
The most famous anecdote about Fisher involved Jets fan favorite wideout Wayne Chrebet, who made the Jets roster as a free agent out of Hofstra in 1995. As the story goes, Chrebet was trying to report to training camp that summer but Harry suspected the 5'10", 188-pounder was an autograph seeker trying to sneak onto the premises under false pretenses. Hilarity ensued as Harry called in to confirm that Wayne indeed was a team member (and about to embark on his Ring of Honor career in green and white).
"I'm sad to hear that Harry has passed. My condolences to his family," Chrebet said this week. "My encounter with him my first day coming to the Jets complex has been told many, many times over the years. It's one of the stories that I enjoy very much sharing. He was a great guy. We laughed about that first meeting and enjoyed many other conversations during his time with the team. He was one of a kind."
Others shared similar stories of "Officer Fisher" and condolences to his wife, Rita, and his family.
"Sad to hear this news," Chuck Ramsey, the Jets' punter from 1977-84, said on Facebook. "He was always a fresh start to a day at practice.. I have nothing but warm and fond memories of a gentleman who cherished people and LOVED his Jets..... Rest in Peace my friend!! Tearing up a little at the moment ..."
From Paul Frase, Jets defensive lineman from 1988-94: "Harry was another of the iconic figures/people I met while with the Jets...what a great soul!"
And Connie Carberg, the Jets player scout whose story has been told a few times, most recently in an NFL Films Presents feature, also noted how beneath his tough exterior beat a "soft heart" for his "family."
"Oh how sad to hear but a true Jets fixture and legend at Weeb Ewbank Hall at Hofstra - one of a kind!" Connie writes. "What a beautiful long life he lived and impacted all of us in a positive way that worked at the New York Jets!!"