Held on the 54th floor of 4 World Trade, the 12th annual Taste of the Jets was a night of food, fashion, football and philanthropy with more than 20 current and former Jets players in attendance.
In an attempt to bring life to the evening's finest looks and hottest trends, I scoured the catwalk far and wide stopping only for mini crabcakes and to ask C , RG , P Ryan Quigley and QB a series of fashion-centric questions along the way.
Better accessory: Pocket square or funky socks?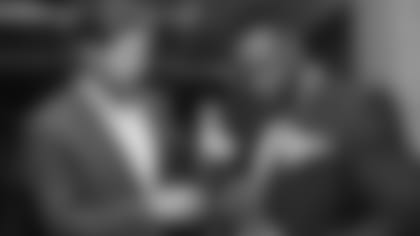 Ryan Quigley: Both. Socks *and *pocket squares? I like socks. And I like pocket squares.
Dakota Dozier: Pocket squares.
Bryce Petty: Pocket squares.
Jackie Lovett: Pocket squares or…
Nick Mangold: Triangles? Definitely triangles.
Would you consider your style to be classic or edgy?
Dozier: Probably classic.
Petty: What's an edgy style?
Petty: Oh, classic. For sureee.
Dozier: Classic. Definitely classic.
Quigley:* *Neck tie. Even though I'm from South Carolina and my mom has been trying to get me to wear a bow tie my whole life.
Petty: (To Dozier) I could have sworn you'd be a neck tie guy.
Dozier: Bow tie in the wedding.
Petty: Ohhh. Well, I'm a neck tie.
Who are you wearing tonight?
Quigley: I have no idea. It's supposed to be casual wear, but the jeans are fancy because they're called running jeans. I have my sneakers in the back so I'll run a mile at half time through the city just because they are, running jeans.
And are these clothes your own or ones that you are borrowing?
Quigley: These clothes right here? It was nice actually. I stopped by T.J. Maxx on the way here, so I found this. And it's funny because I'm not actually supposed to be here. I snuck in.
How long did this look take to create?
Mangold:A good 15 minutes.
Dozier: About 15 minutes.
Petty: I would have to say, 14 minutes.
Who's the best dressed tonight?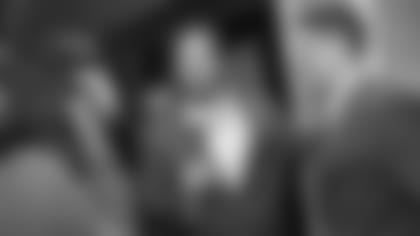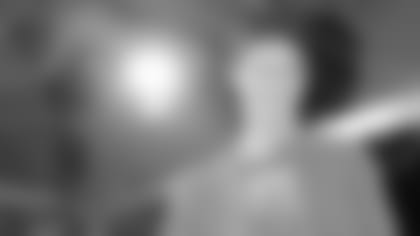 Lovett: And how would you describe his style?
Did you pick this look out yourself?
Lovett: The man from Saks Fifth Avenue?
Mangold: Yes. The man. The man picked it out.
Alas, another sucessful year of Taste in the books. Good job, man.